Suvichar images
दुर्जनों के साथ भलाई करना !!
सज्जनों के साथ बुराई करने के समान है !!
Durjano ke saath bhalai karna !!
Sajjano ke saath burai karane ke samaan hai !!
do good to the wicked !!
It's like doing evil to gentlemen !!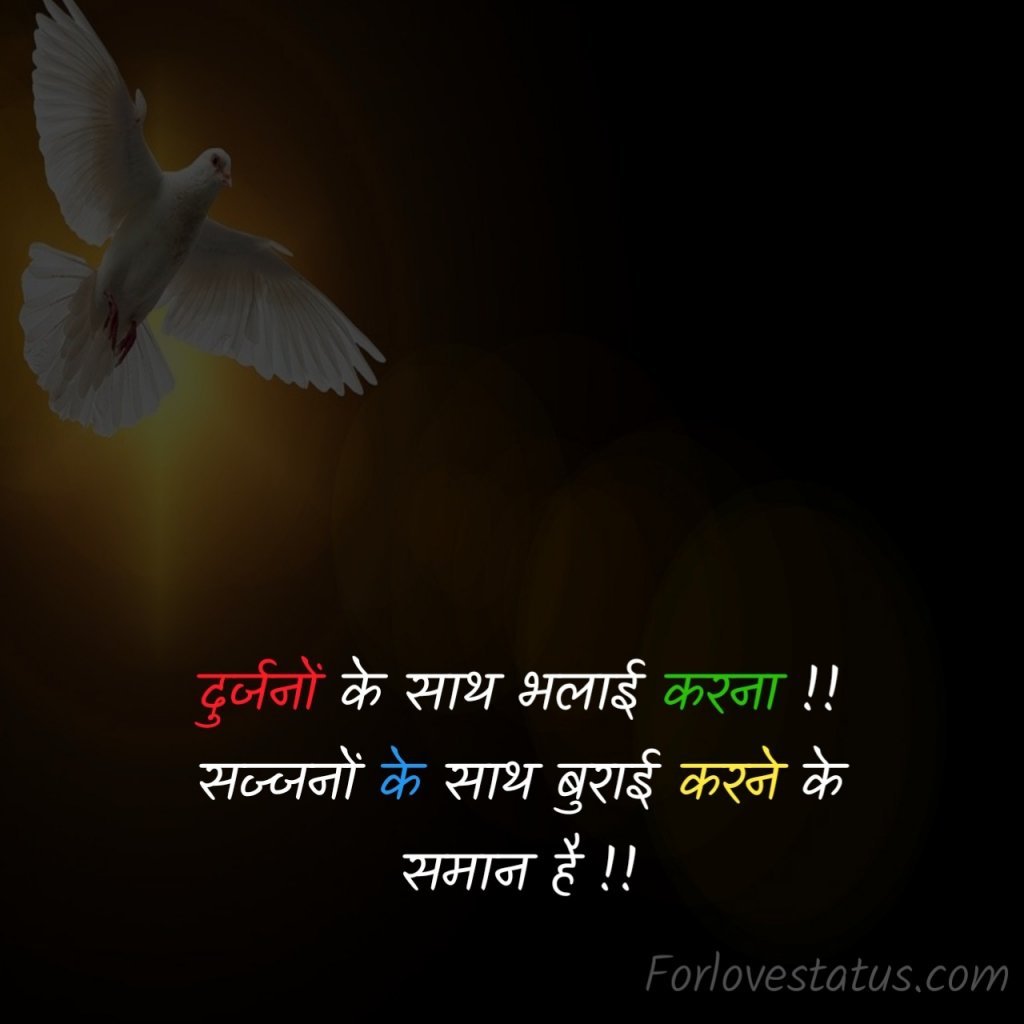 ---
मुस्कुराते इंसान की कभी जेबें टटोलना !!
हो सकता है उसका रुमाल गिला मिले !!
Muskurate insaan ki kabhi jebe tatolana !!
Ho sakata hai usaka rumaal gila mile !!
Never grope the pockets of a smiling person !!
May be his handkerchief gets wet !!
---
कलह पर विजय पाने के लिए !!
मौन से बड़ा कोई शस्त्र नहीं है !!
Kalah par vijay paane ke liye !!
Maun se bada koi shastr nahi hai !!
to overcome discord !!
There is no greater weapon than silence !!
---
चमक सबको नज़र आती है !!
अँधेरा कोई नहीं देख पाता !!
Chamak sabko nazar aati hai !!
Andhera koi nahi dekh paata !!
shine is visible to all !!
no one can see the dark !!
---
वो अपने ही होते है !!
जो लफ्जों से मार देते हैं !!
Wo apane hi hote hai !!
Jo lafzon se maar dete hai !!
he is on his own !!
who kill with words !!
---
दीवारें मेरे संग रोती रही !!
और लोग समझे कि मकान कच्चा है !!
Diwaren mere sang roti rahi !!
Aur log samajhe ki makaan kachcha hai !!
the walls cried with me !!
And people understand that the house is kutcha !!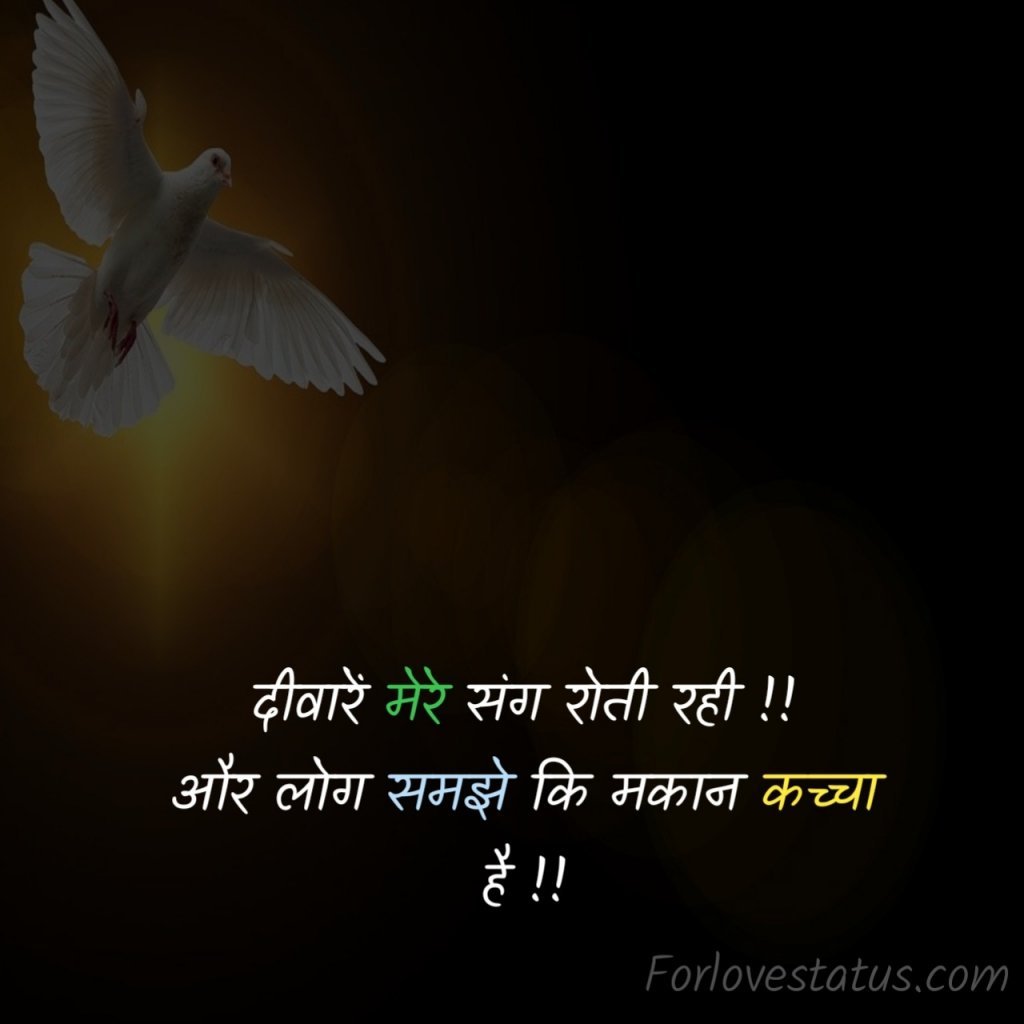 ---
ताश का जोकर और अपनों की ठोकर !!
अक्सर बाजी घुमा देते है !!
Taash ka jokar aur apano ki thokar !!
Aksar baazi ghuma dete hai !!
card clown and loved ones stumble !!
often turns around !!
---
हर इंसान में कोई न कोई प्रतिभा है !!
लेकिन लोग दूसरों जैसा बनने की कोशिश में इसे नष्ट कर देते हैं !!
Har insaan me koi na koi pratibha hai !!
Lekin log dusaro jaisa banane ki koshish me ise nast kar dete hai !!
every person has some talent !!
But people destroy it trying to be like others !!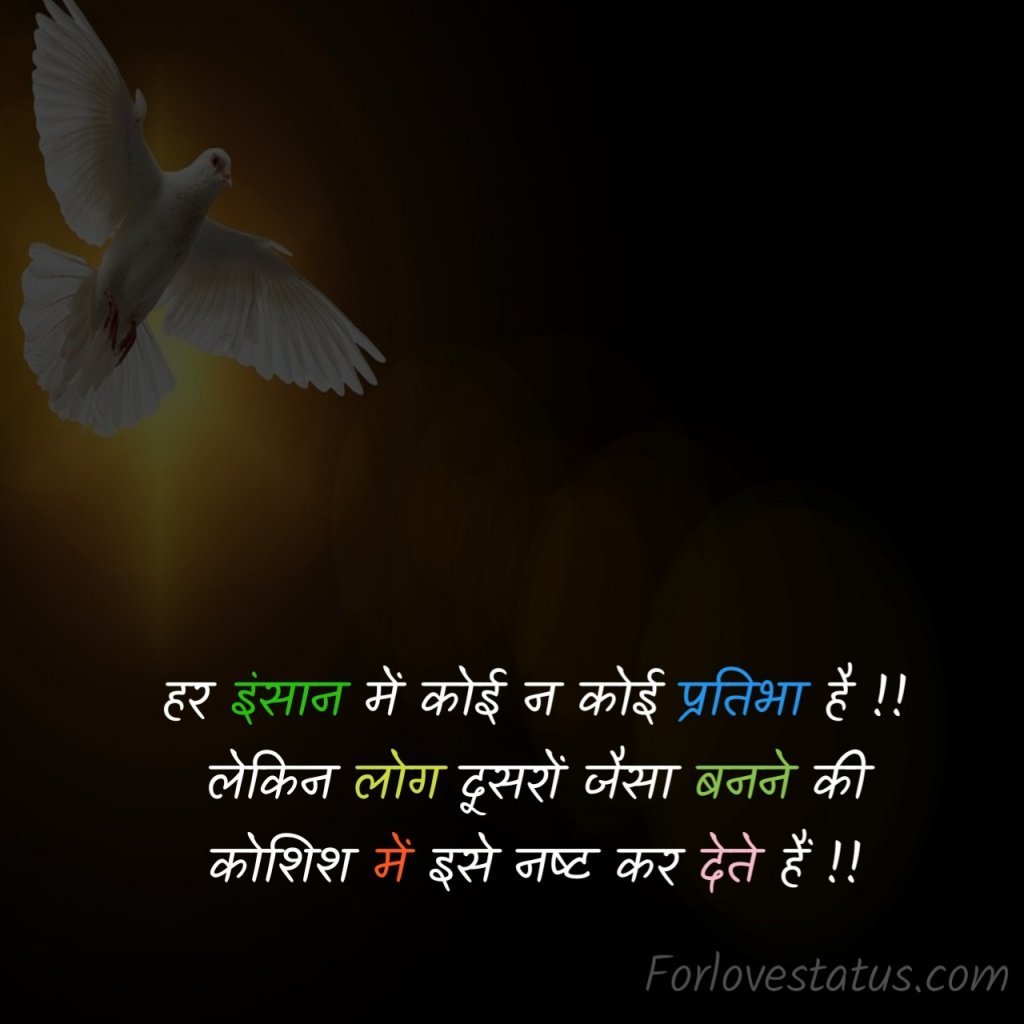 ---
जीत और हार का कोई अर्थ नही !!
अगर व्यक्ति ने खेल का आनंद ना लिया हो !!
Jeet aur haar ka koi arth nahi !!
Agar vyakti ne khel ka aanand na liya ho !!
victory and defeat have no meaning !!
If the person didn't enjoy the game !!
---
बहुत नम्रता चाहिए,रिश्ते निभाने के लिए !!
छल कपट में तो सिर्फ, महाभारत रची जाती है !!
Bahut namrata chaahiye,rishte nibhaane ke liye !!
Chhal kapat me to sirf, mahaabharat rachi jaati hai !!
It takes a lot of humility to maintain a relationship !!
Only in deceit, mahabharat is created !!
---