हिंदी सुविचार शायरी
दिल से ज्यादा महफूज जगह नहीं है दुनिया में !!
मगर सबसे ज्यादा लोग लापता भी यहीं से होते है !!
Dil se jyada mahafooj jagah nahi hai duniya me !!
Magar sabase jyaada log laapata bhi yahi se hote hai !!
There is no safer place in the world than the heart !!
But most of the people missing are also from here !!
---
कुछ मजबूत रिश्तें !!
बड़ी ख़ामोशी से बिखर जाते हैं !!
Kuchh majaboot rishte !!
Badi khaamoshi se bikhar jaate hai !!
some strong relationships !!
scattered silently !!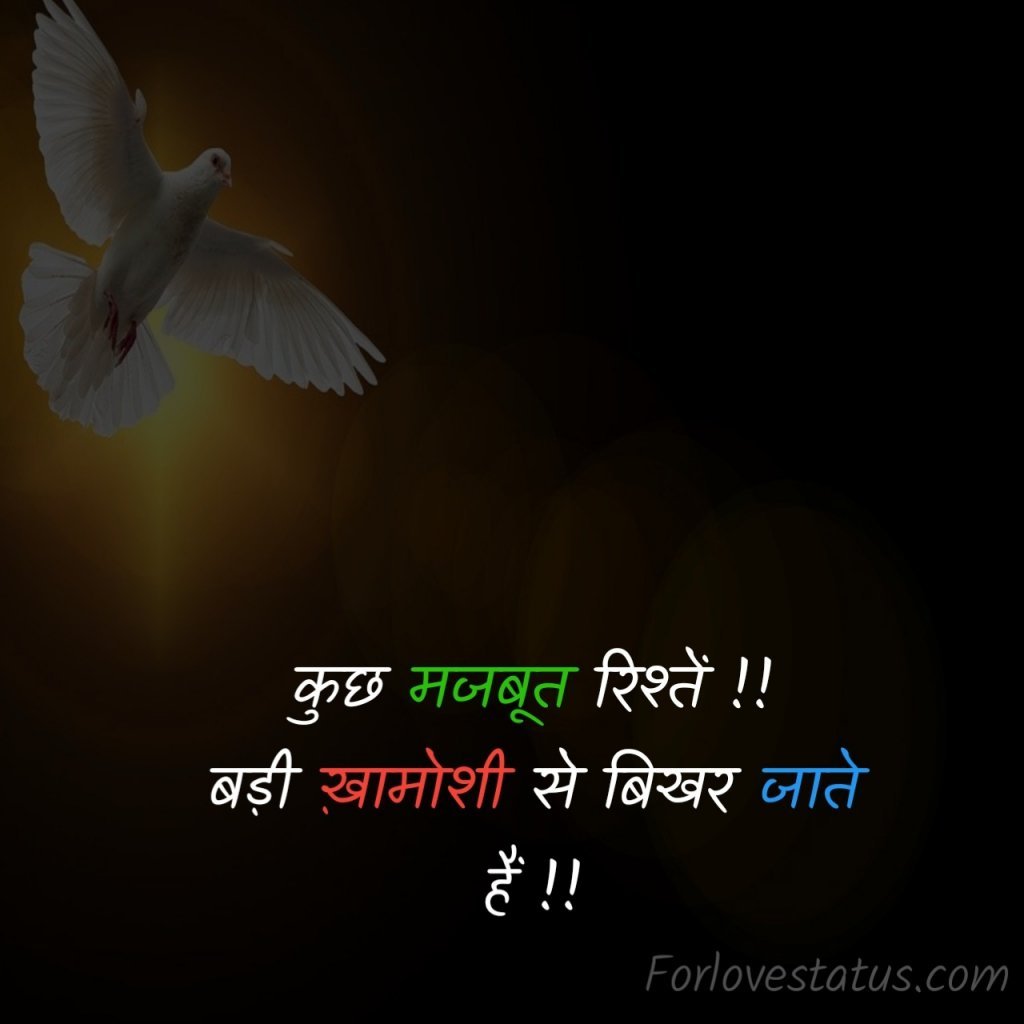 ---
नदी के किनारे पर खड़े रहने से नदी पार नही होती !!
आपको उसे पार करने के लिए उसके अंदर जाना पड़ता है !!
Nadi ke kinare par khade rahane se nadi paar nahi hoti !!
Aapako use paar karane ke liye usake andar jaana padata hai !!
Standing on the bank of the river does not cross the river !!
you have to go inside to cross it !!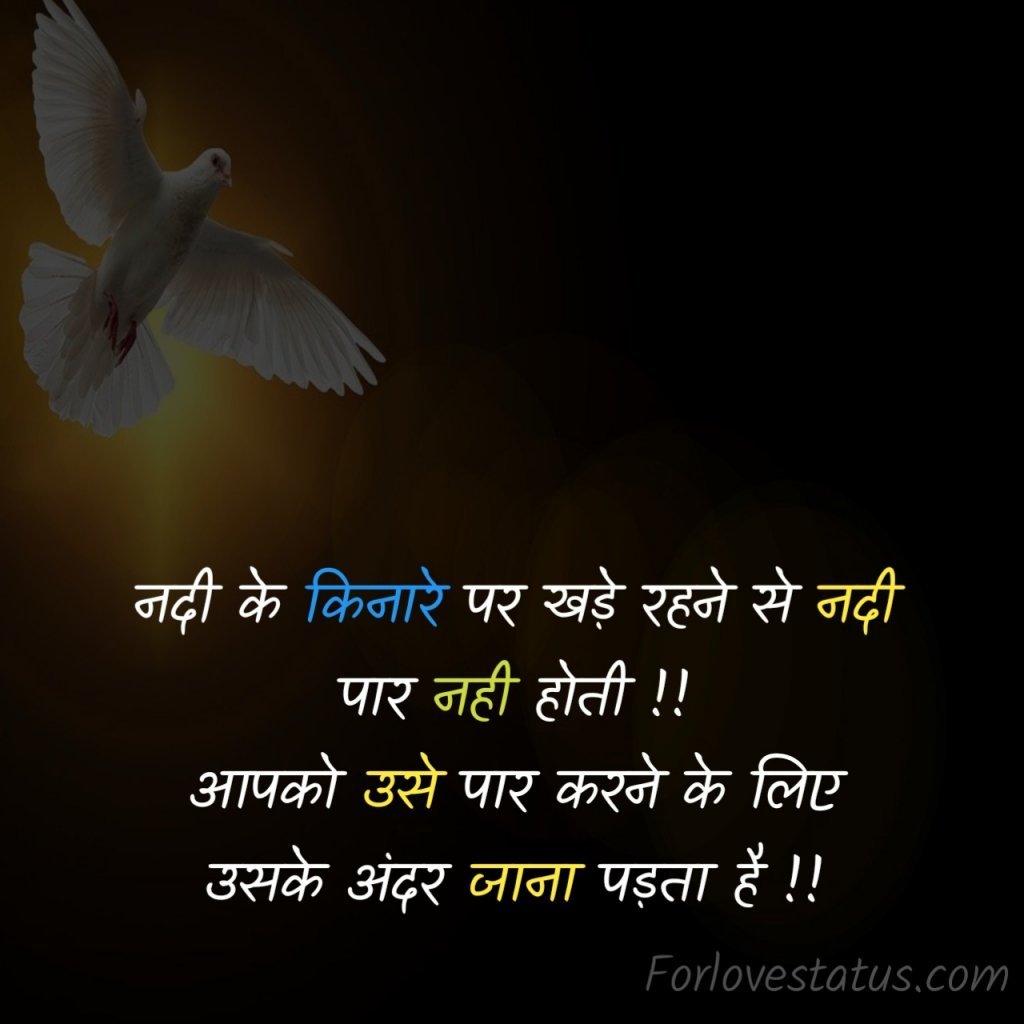 ---
रब से और माँ-बाप से दूर रह कर !!
इंसान हमेशा परेशान रहता हैं !!
Rab se aur maa-baap se door rah kar !!
Insaan hamesha pareshaan rahata hai !!
Away from God and from parents !!
people are always worried !!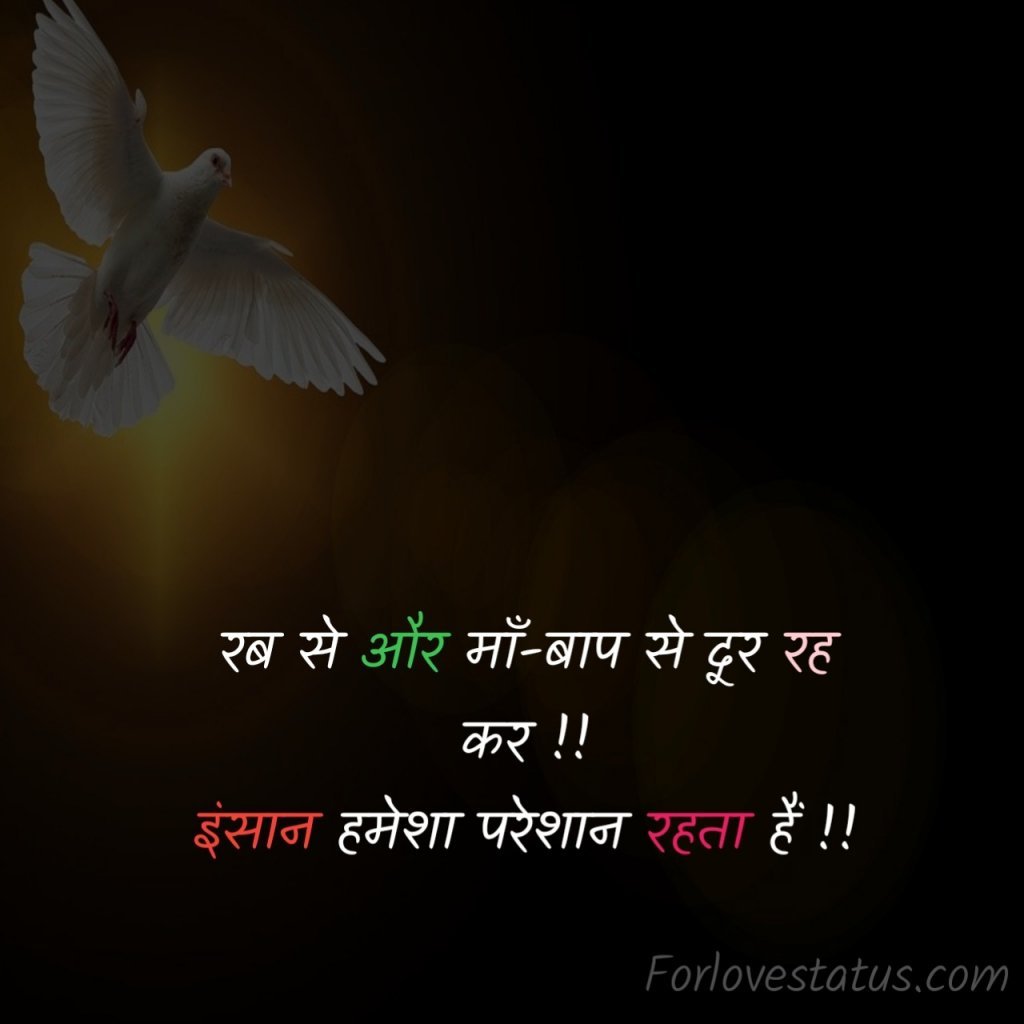 ---
किसी को उजाड़ कर बसे तो क्या बसे !!
किसी को रुलाकर हंसे तो क्या हंसे !!
Kisi ko ujaad kar base to kya base !!
Kisi ko rulaakar hase to kya hase !!
What would you do if you left someone in ruins !!
What if you laugh when someone makes you cry !!
---
ज़िन्दगी में एक बात तो तय है !!
कि तय कुछ भी नही हैं !!
Zindagi me ek baat to tay hai !!
Ki tay kuchh bhi nahi hai !!
One thing is certain in life !!
that nothing is fixed !!
---
कमाल का ताना दिया आज मंदिर में भगवान ने !!
मांगने ही आते हो कभी मिलने भी आया करो !!
Kamaal ka taana diya aaj mandir me bhagawan ne !!
Maangane hi aate ho kabhi milane bhi aaya karo !!
Amazing taunt today God in the temple !!
You only come to ask, come to meet sometimes !!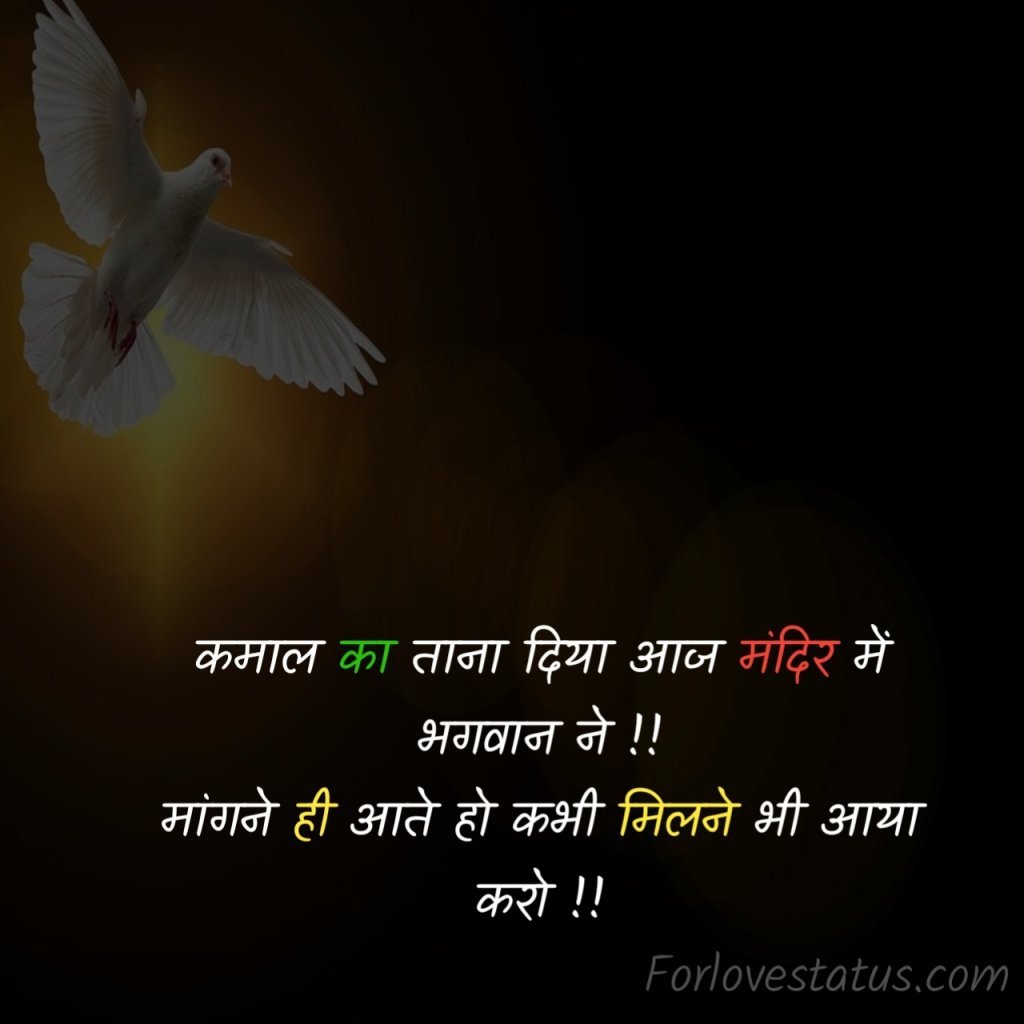 ---
जिस-जिस पर इस दुनिया ने हँसा है !!
उस-उस ने इतिहास रचा है !!
Jis-jis par is duniya ne hasa hai !!
Us-us ne itihaas racha hai !!
at whom this world has laughed !!
he-she made history !!
---
यदि किसी चीज़ को दिल से चाहो तो !!
पूरी कायनात उसे तुम से मिलाने में लग जाती है !!
Yadi kisi cheez ko dil se chaaho to !!
Poori kaayanaat use tum se milaane me lag jaati hai !!
if you want something !!
The whole universe goes into reuniting him with you !!
---
धन – हीन को अच्छा वक्त आने की उम्मीद सदैव रहती है !!
किंतु अमीरों को बुरा वक्त आने का खौफ !!
Dhan – heen ko achchha wakt aane ki ummid sadaiv rahati hai !!
Kintu amiro ko bura wakt aane ka khauf !!
Wealth-inferior always has hope of good times !!
But the rich fear bad times !!
---