Suvichar hindi mein
जो इंसान हार के डर से कभी आगे नही बढ़ता !!
वो इंसान जीवन में कभी कामयाब नही हो सकता !!
Jo insaan haar ke dar se kabhi aage nahi badhata !!
Wo insaan jeewan me kabhi kaamayab nahi ho sakata !!
The person who never moves forward because of the fear of defeat !!
That person can never be successful in life !!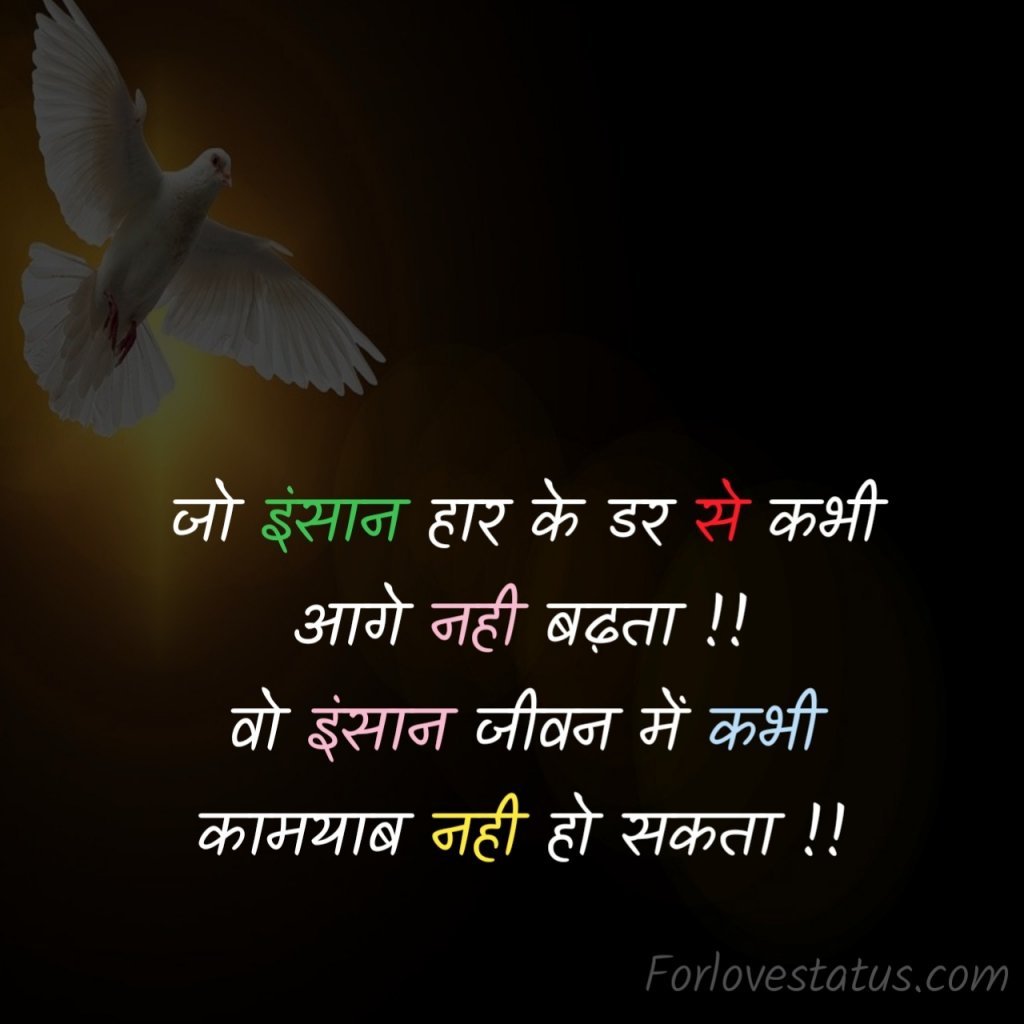 ---
चरित्र अगर कपड़ों से तय होता !!
तो कपड़ों की दुकान मंदिर कहलाती !!
Charitr agar kapado se tay hota !!
To kapado ki dukaan mandir kahalaati !!
If the character was determined by clothing !!
So the clothing store was called a temple !!
---
हर एक चीज़ की कीमत लगते देखा हैं !!
इंसान छोड़ो भगवान को भी बिकते देखा है !!
Har ek cheez ki kimat lagate dekha hai !!
Insaan chhodo bhagawan ko bhi bikate dekha hai !!
have seen the cost of everything !!
Quit human, have seen God also sold !!
---
अगर कुछ करना है तो भीड़ से हटकर चलो !!
भीड़ साहस तो देती है पर पहचान छीन लेती है !!
Agar kuchh karana hai to bheed se hatakar chalo !!
Bheed saahas to deti hai par pahachaan chheen leti hai !!
If you want to do something then stand out from the crowd !!
The crowd gives courage but snatches away the identity !!
---
नाकामयाब लोग दुनिया के डर से अपने फैसले बदल देते हैं !!
और कामयाब लोग अपने फैसले से पूरी दुनिया बदल देते हैं !!
Naakamayab log duniya ke dar se apane faisale badal dete hai !!
Aur kaamayab log apane faisale se poori duniya badal dete hai !!
Unsuccessful people change their decisions out of fear of the world !!
And successful people change the whole world with their decisions !!
---
आदमी बड़ा हो या छोटा कोई फर्क नहीं पड़ता !!
उसकी कहानी बड़ी होनी चाहिए !!
Aadami bada ho ya chhota koi fark nahi padata !!
Usaki kahaani badi honi chaahiye !!
man big or small doesn't matter !!
his story must be big !!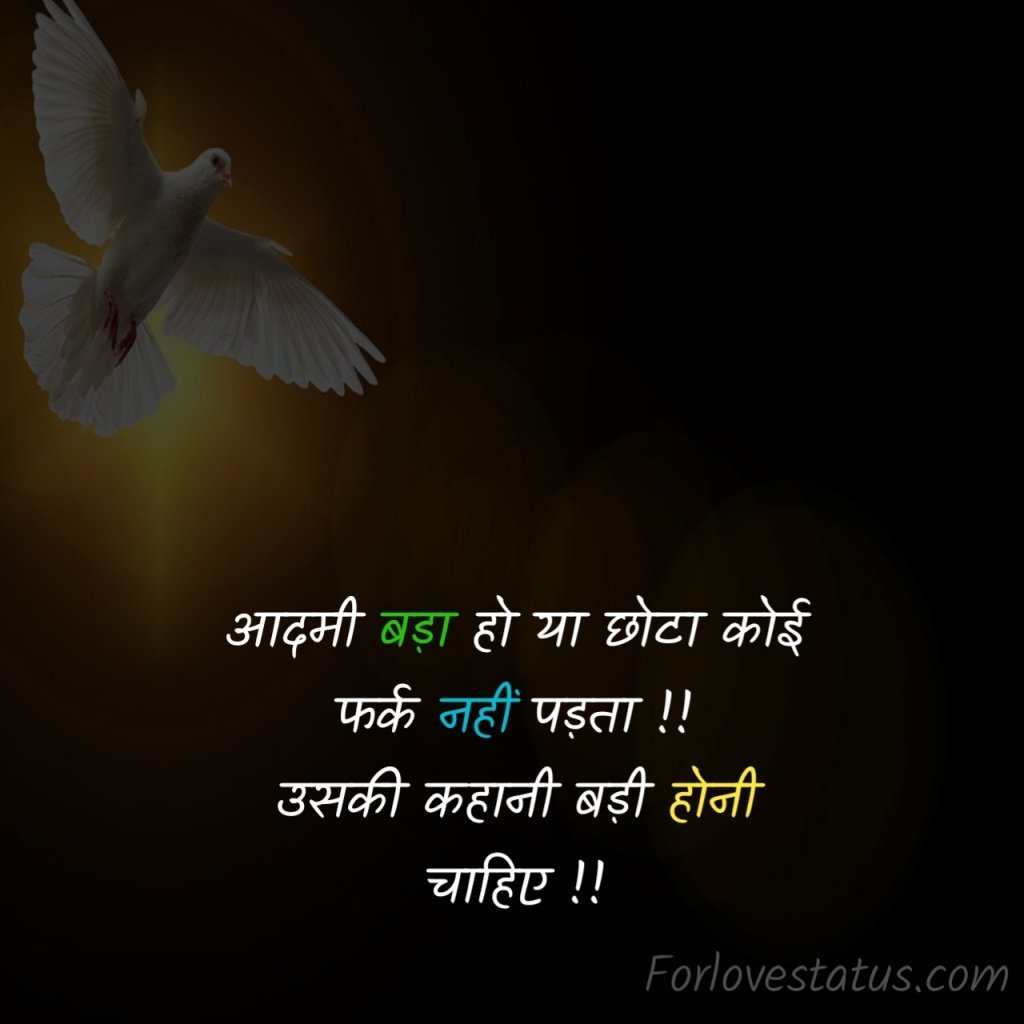 ---
अगर ज़िन्दगी में कुछ पाना है तो !!
अपने तरीक़े बदलो इरादे नहीं !!
Agar zindagi me kuchh paana hai to !!
Apane tarike badalo iraade nahi !!
If you want to achieve something in life !!
change your ways, not intentions !!
---
लाखो किलोमीटर की यात्रा !!
एक कदम से ही शुरू होती है !!
Laakho kilomitar ki yatra !!
Ek kadam se hi shuru hoti hai !!
journey of millions of kilometers !!
starts with one step !!
---
बुरा वक्त कभी बताकर नहीं आता !!
मगर सिखा कर बहुत कुछ जाता है !!
Bura wakt kabhi batakar nahi aata !!
Magar sikha kar bahut kuchh jaata hai !!
bad times never come !!
But a lot goes by teaching !!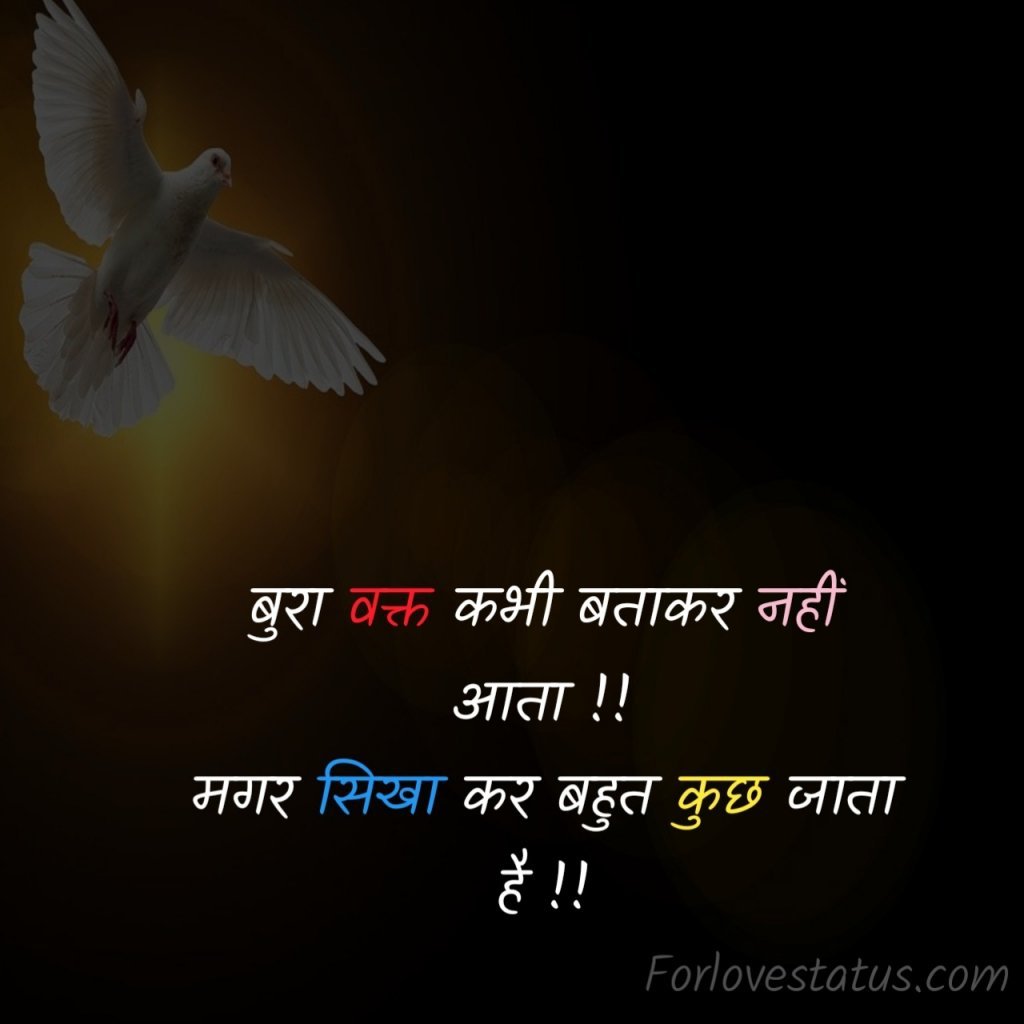 ---
बुराई को देखना और सुनना !!
ही बुराई की शुरुआत है !!
Burai ko dekhana aur sunana !!
Hi burai ki shuruaat hai !!
see and hear evil !!
this is the beginning of evil !!
---