Suvichar for life
इंतज़ार करने वालो को सिर्फ उतना मिलता है !!
जितना कोशिश करने वाले छोड़ देते है !!
Intazaar karane walo ko sirf utana milata hai !!
Jitana koshish karane wale chhod dete hai !!
those who wait get only that much !!
give up trying !!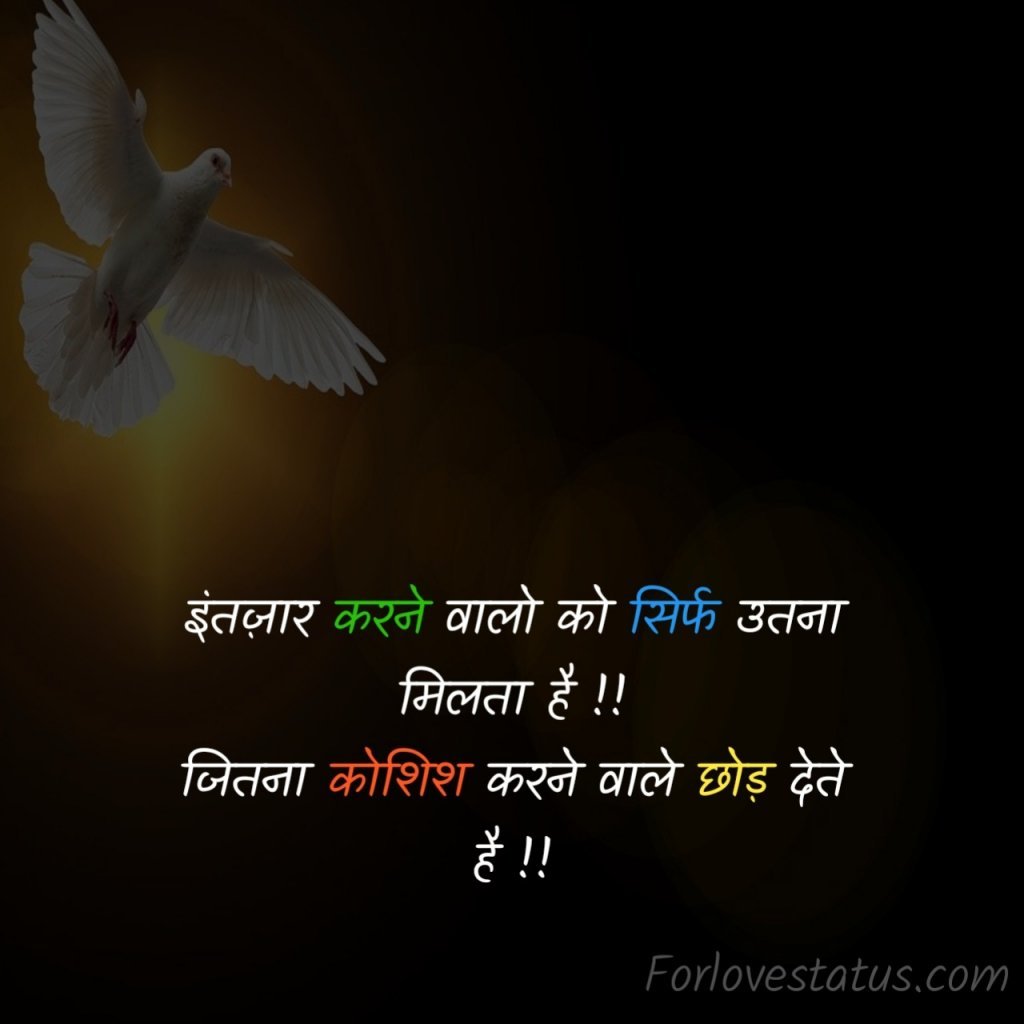 ---
जो रिश्ते गहरे होते हैं !!
वो अपनापन का शोर नहीं मचाते !!
Jo rishte gahare hote hai !!
Wo apanapan ka shor nahi machate !!
relationships that are deep !!
they don't make noise !!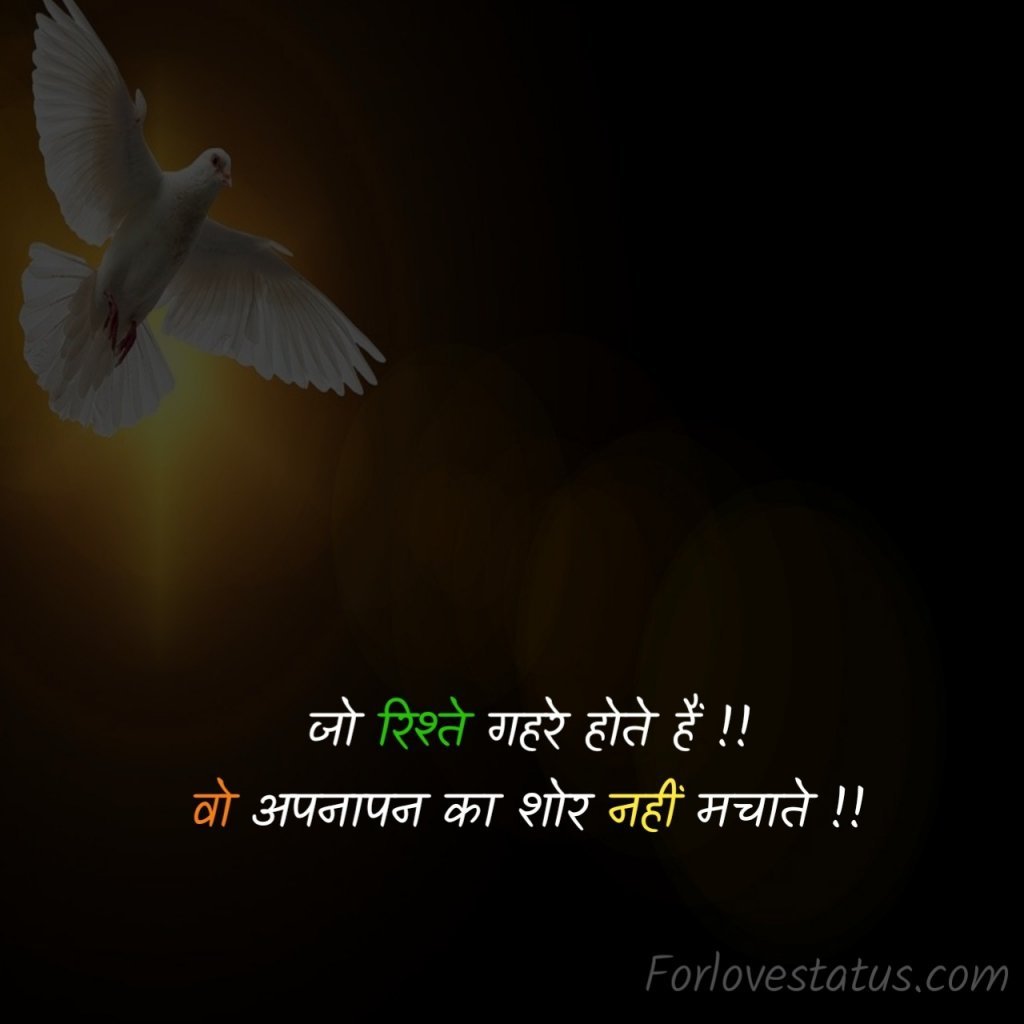 ---
कोई भी लक्ष्य इंसान के संघर्ष से बड़ा नहीं !!
हारा वही जो लड़ा नहीं !!
Koi bhi lakshy insaan ke sangharsh se bada nahi !!
Haara wahi jo lada nahi !!
no goal is greater than the struggle of man !!
loser is the one who didn't fight !!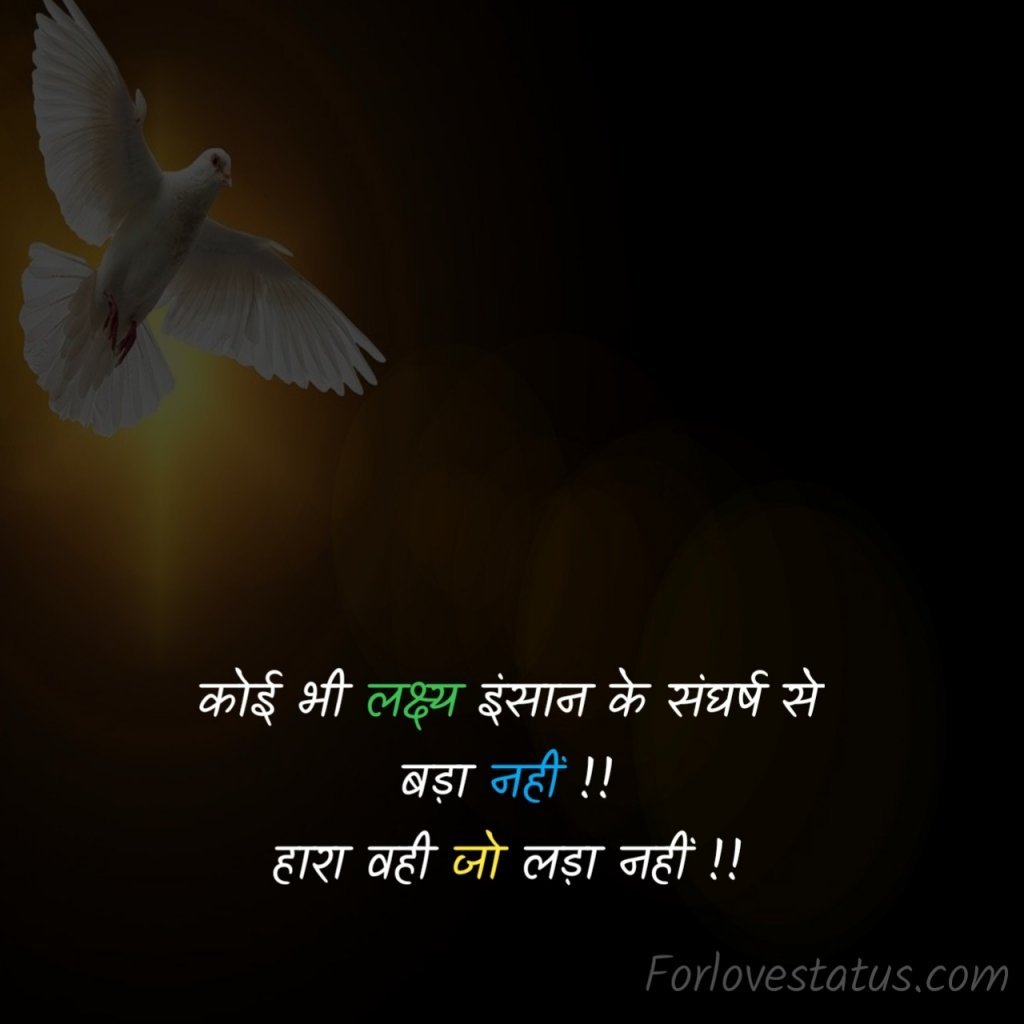 ---
अपनापन छलके जिसकी आँखों में !!
ऐसा कोई एक ही मिलता है लाखो में !!
Apanaapan chhalake jisaki aankhon me !!
Aisa koi ek hi milata hai laakho me !!
In whose eyes the selfishness spilled !!
There is only one like this in millions !!
---
देर से बनो पर ज़रूर कुछ बनो !!
क्योंकि वक़्त के साथ लोग खैरियत नहीं हैसियत पूछते हैं !!
Der se bano par zaroor kuchh bano !!
Kyonki waqt ke saath log khairiyat nahi haisiyat poochhate hai !!
be late but be sure !!
Because with the passage of time, people ask for status, not well-being !!
---
अगर लोग आपके सपनो पर नहीं हस रहे हैं !!
तो समझ जाना आपके सपने बहुत छोटे हैं !!
Agar log aapake sapano par nahi has rahe hai !!
To samajh jaana aapake sapane bahut chhote hai !!
If people are not laughing at your dreams !!
So understand your dreams are too small !!
---
काम ऐसा करो की नाम हो जाए !!
या फिर नाम ऐसा करो कि सुनते ही काम हो जाए !!
Kaam aisa karo ki naam ho jaye !!
Ya fir naam aisa karo ki sunate hi kaam ho jaye !!
work in such a way that the name becomes !!
Or do the name in such a way that the work gets done as soon as you hear it !!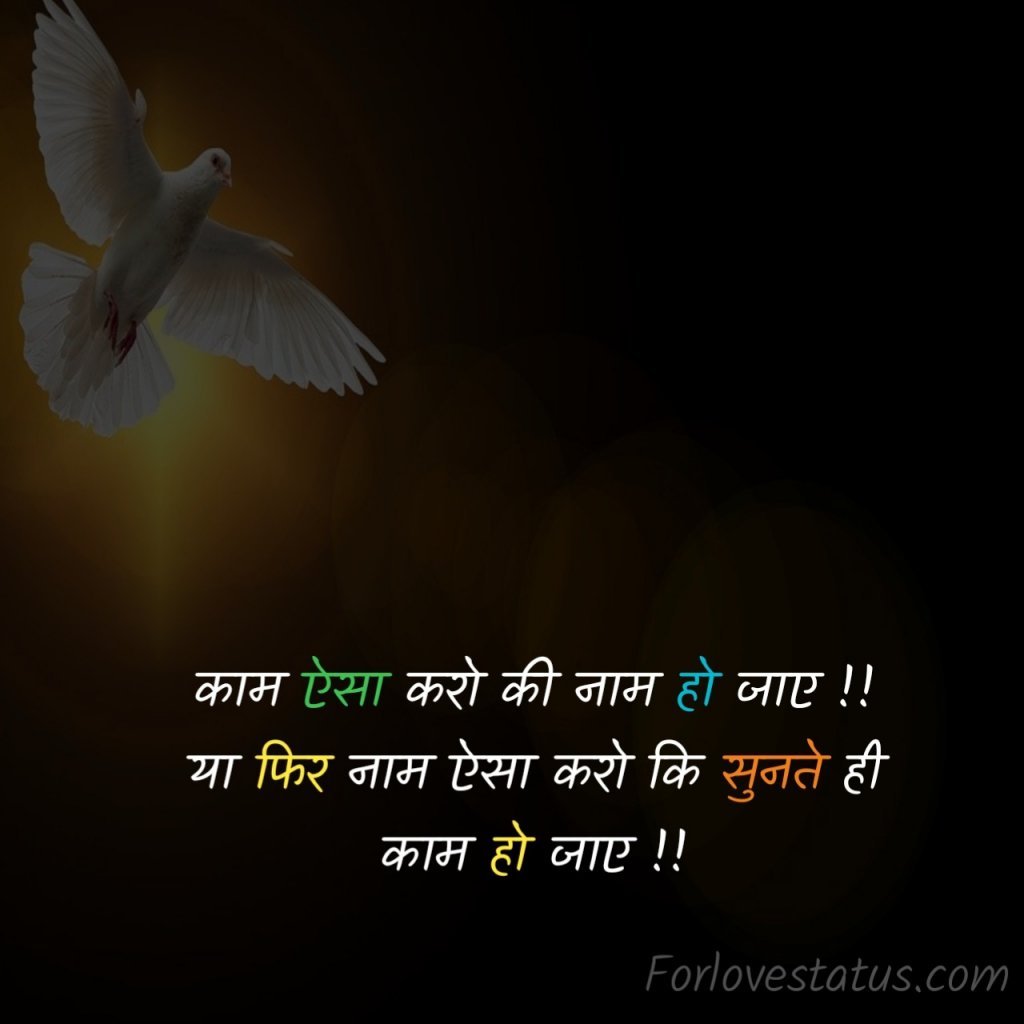 ---
स्कूल तो बचपन में जाते थे !!
अब तो बस जिंदगी सिखाती हैं !!
School to bachapan me jaate the !!
Ab to bas zindagi sikhaati hai !!
used to go to school in childhood !!
Now only life teaches !!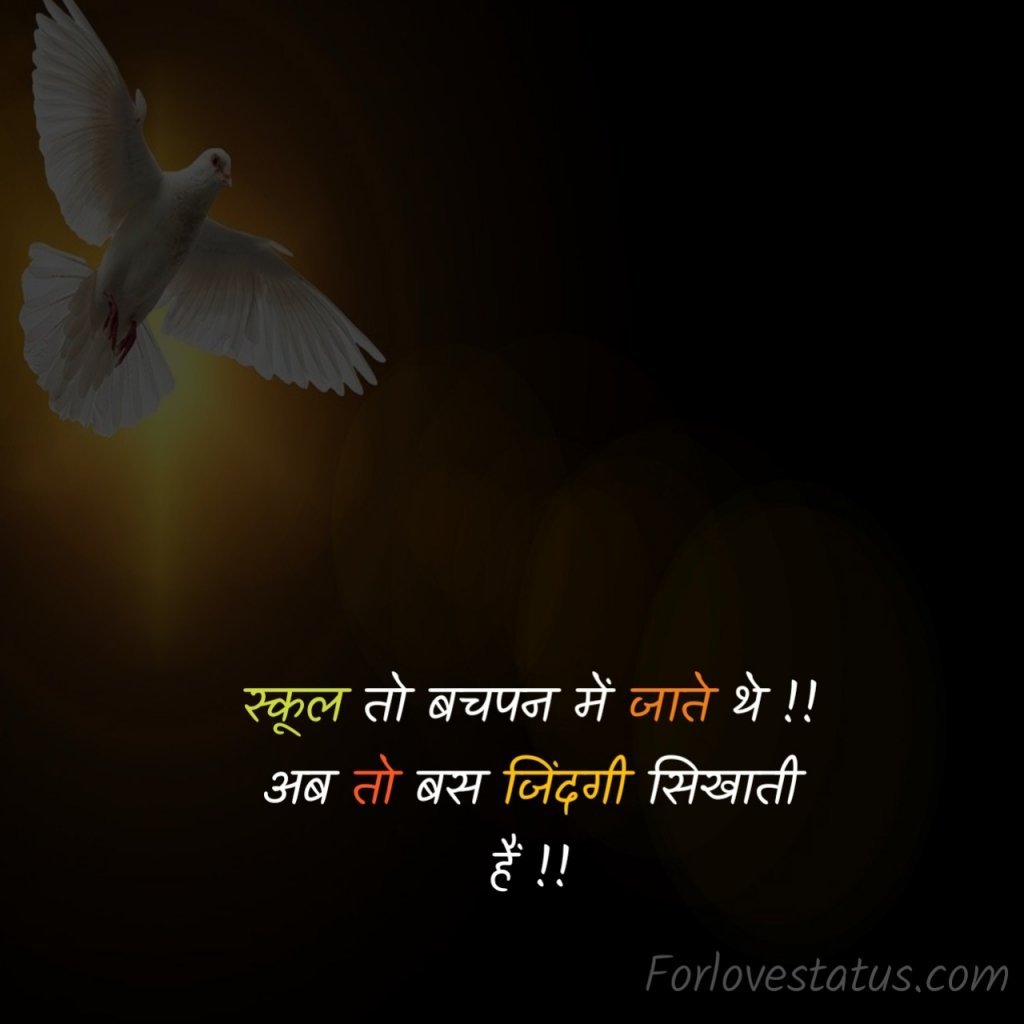 ---
इरादे मेरे हमेशा साफ़ होते हैं !!
इसलिए कई लोग मेरे खिलाफ होते हैं !!
Iraade mere hamesha saaf hote hai !!
Isaliye kai log mere khilaaf hote hai !!
my intentions are always clear !!
That's why many people are against me !!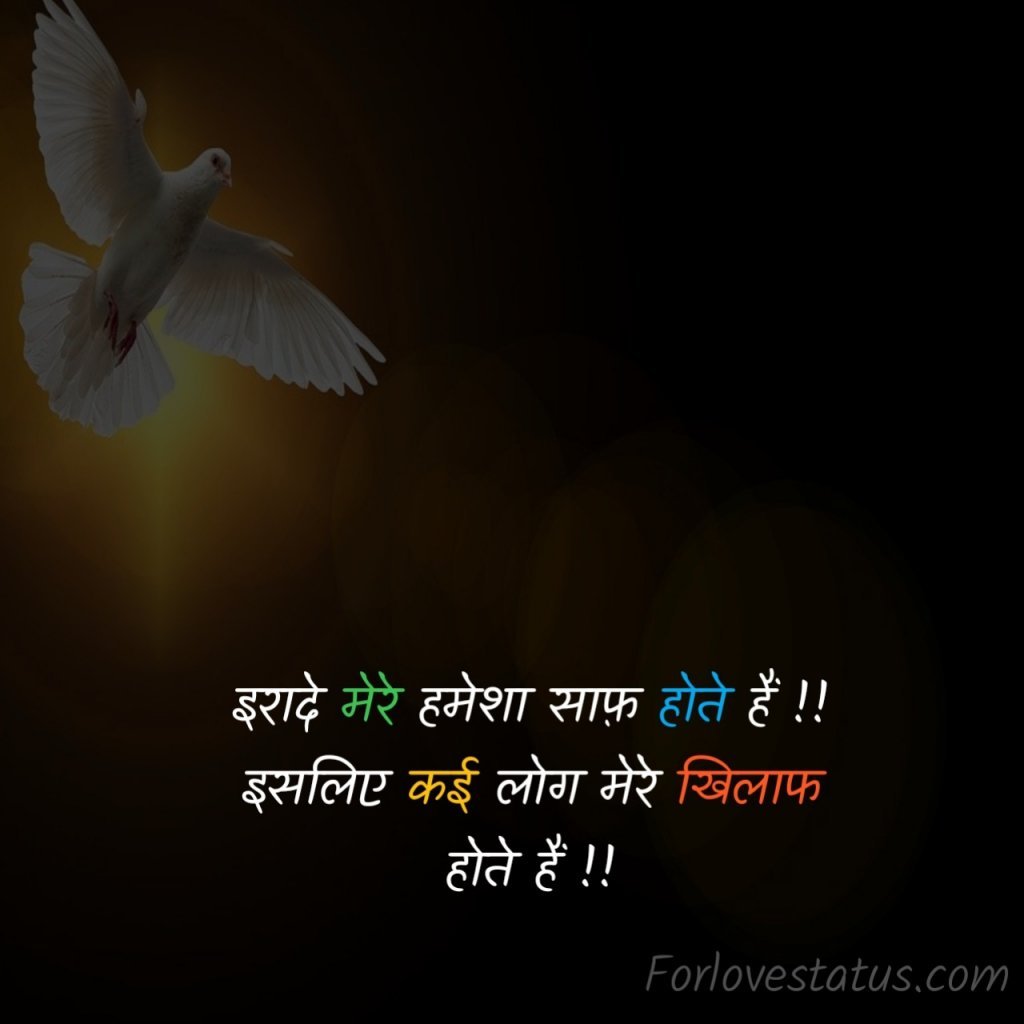 ---
तकलीफ अकेलेपन से नहीं !!
अंदर के शोर से हैं !!
Takaleef akelepan se nahi !!
Andar ke shor se hai !!
not suffering from loneliness !!
from the noise inside !!
---