Suvichar hindi me
हमेशा दूसरों की सफलता के बारे में जानने के बजाए !!
ख़ुद की सफलता पर काम करना चाहिए !!
Hamesha dusaro ki safalta ke baare me jaanane ke bajae !!
Khud ki safalata par kaam karana chaahiye !!
Instead of always knowing about the success of others !!
work on your own success !!
---
तुम लोगों की सोच को अपने प्रति नहीं बदल सकते !!
इसलिए चैन से अपनी ज़िंदगी जियो !!
Tum logo ki soch ko apane prati nahi badal sakate !!
Isaliye chain se apani zindagi jiyo !!
You can't change the way people think about you !!
so live your life in peace !!
---
आप कब सही थे ये कोई याद नहीं रखता !!
आप कब ग़लत थे इसे कोई नहीं भूलता !!
Aap kab sahi the ye koi yaad nahi rakhata !!
Aap kab galat the ise koi nahi bhulata !!
no one remembers when you were right !!
no one forgets when you were wrong !!
---
जिस इंसान ने कभी ग़लती नहीं की उसने !!
कभी कुछ नया करने की कोशिश ही नहीं की !!
Jis insaan ne kabhi galti nahi ki usane !!
Kabhi kuchh naya karane ki koshish hi nahi ki !!
the man who never made a mistake !!
never tried anything new !!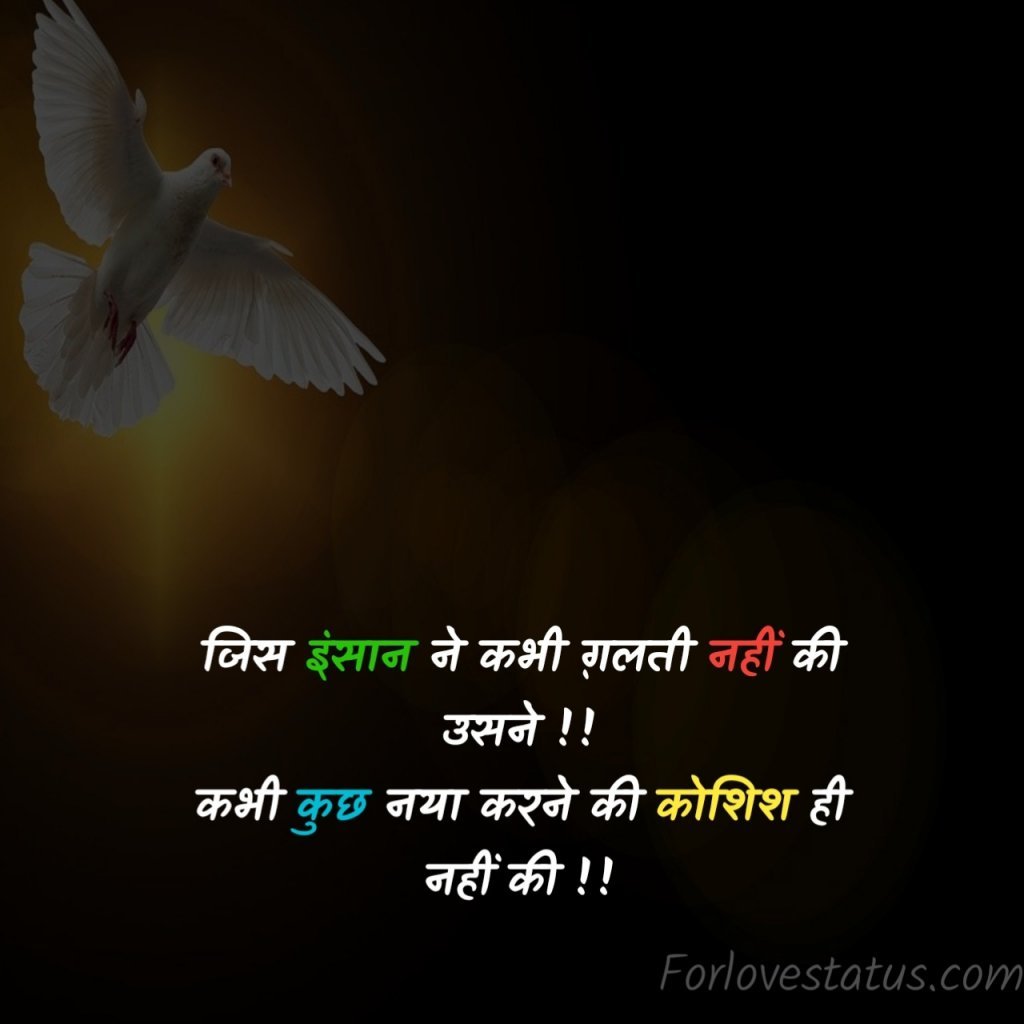 ---
निष्फलता के बाद हौसला रखना आसान है !!
लेकिन सफलता के बाद नम्रता रखना उससे भी कठिन है !!
Nishfalata ke baad hausala rakhana aasaan hai !!
Lekin safalata ke baad namrata rakhana usase bhi kathin hai !!
It's easy to be motivated after failure !!
But having humility after success is harder than that !!
---
जिसे भविष्य का भय नहीं है !!
वहीं वर्तमान का आनंद ले सकता है !!
Jise bhawishy ka bhay nahi hai !!
Wahi wartamaan ka aanand le sakata hai !!
who doesn't fear the future !!
where you can enjoy the present !!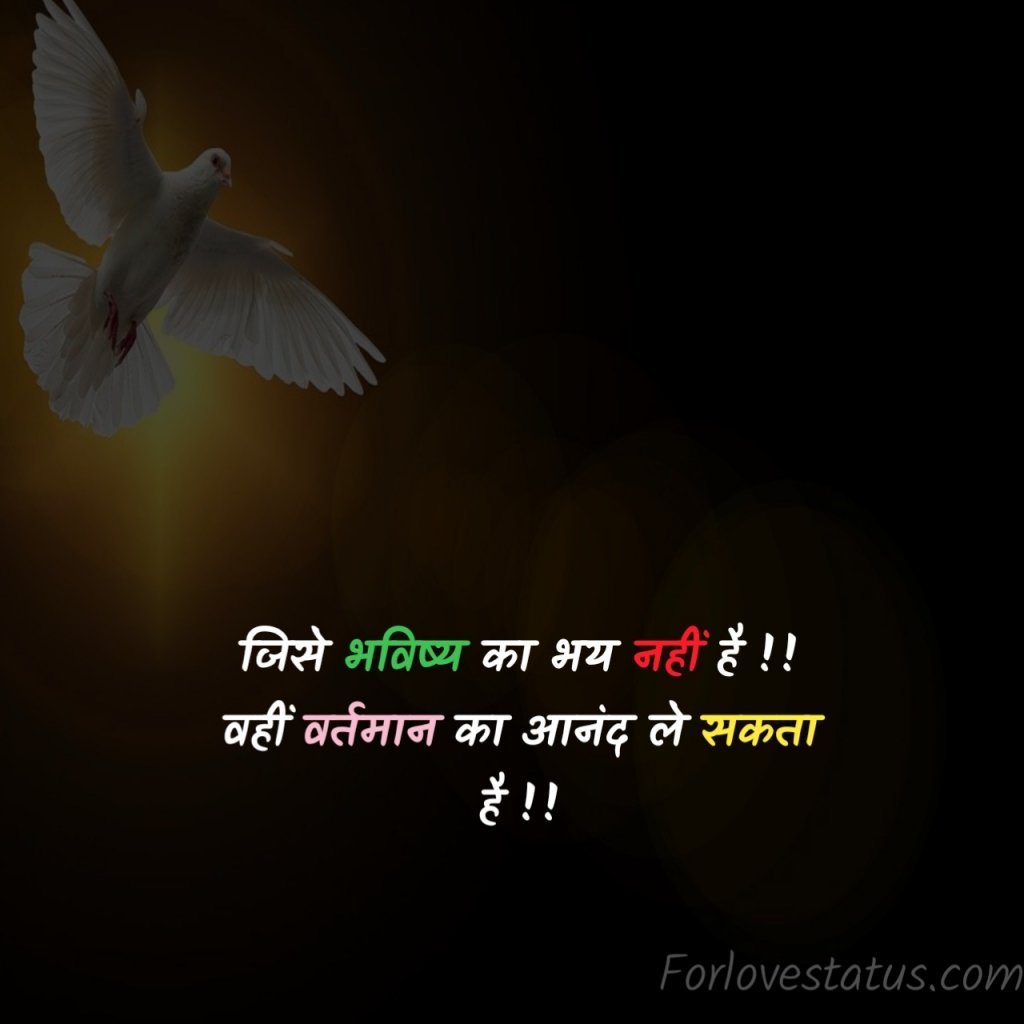 ---
तुम पानी जैसे बनो जो अपना रास्ता ख़ुद बनाता है !!
पत्थर जैसे ना बनो जो दूसरों का भी रास्ता रोक लेता है !!
Tum paani jaise bano jo apana raasta khud banaata hai !!
Patthar jaise na bano jo dusaro ka bhi raasta rok leta hai !!
Be like water that makes its own way !!
Don't be like a stone that blocks the way for others !!
---
माना दुनिया बुरी है सब जगह धोखा है !!
किंतु हम तो अच्छे बने हमें किसने रोका है !!
Maana duniya buri hai sab jagah dhokha hai !!
Kintu ham to achchhe bane hame kisane roka hai !!
Believe the world is bad, there is deception everywhere !!
But we became good, who stopped us !!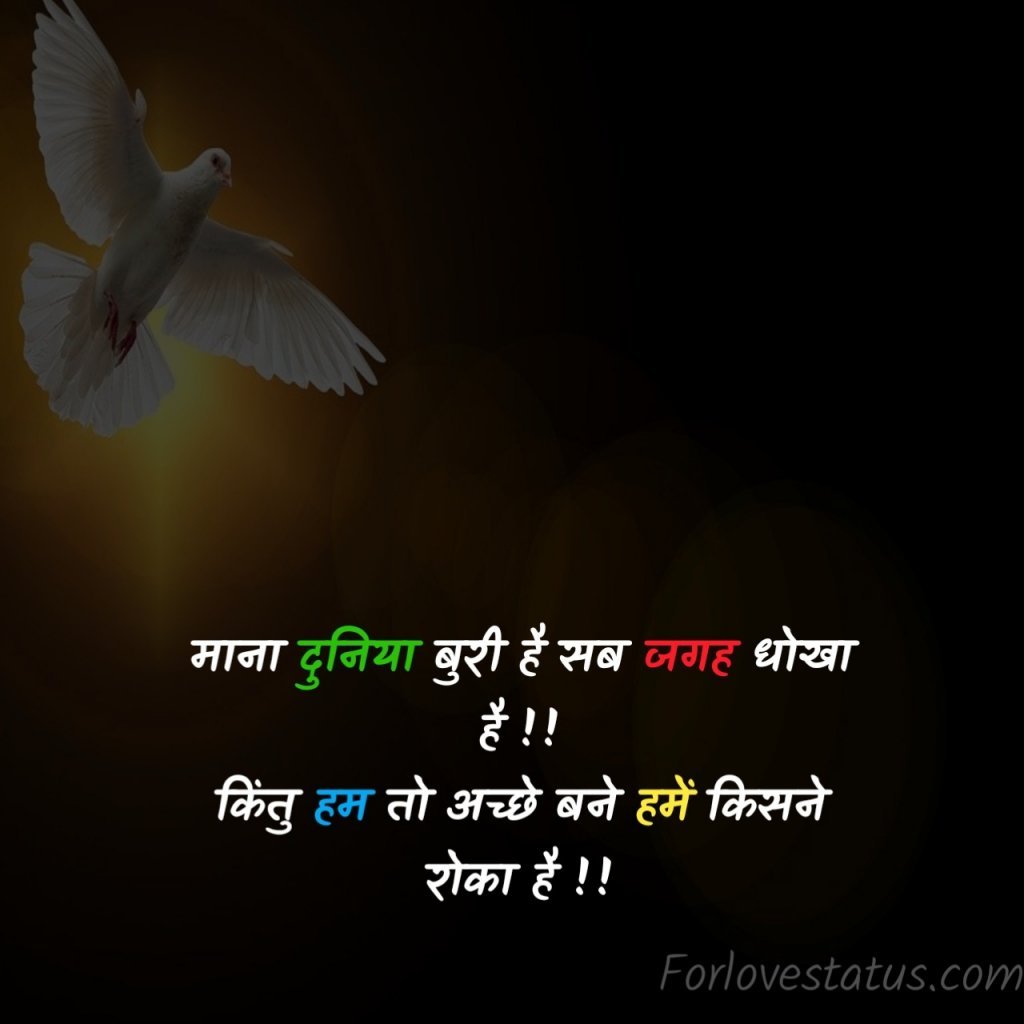 ---
खामोश रहने का अपना ही मजा है !!
नींव के पत्थर कभी बोला नहीं करते !!
Khaamosh rahane ka apana hi maza hai !!
Neev ke patthar kabhi bola nahi karate !!
Silence has its own fun !!
foundation stones never speak !!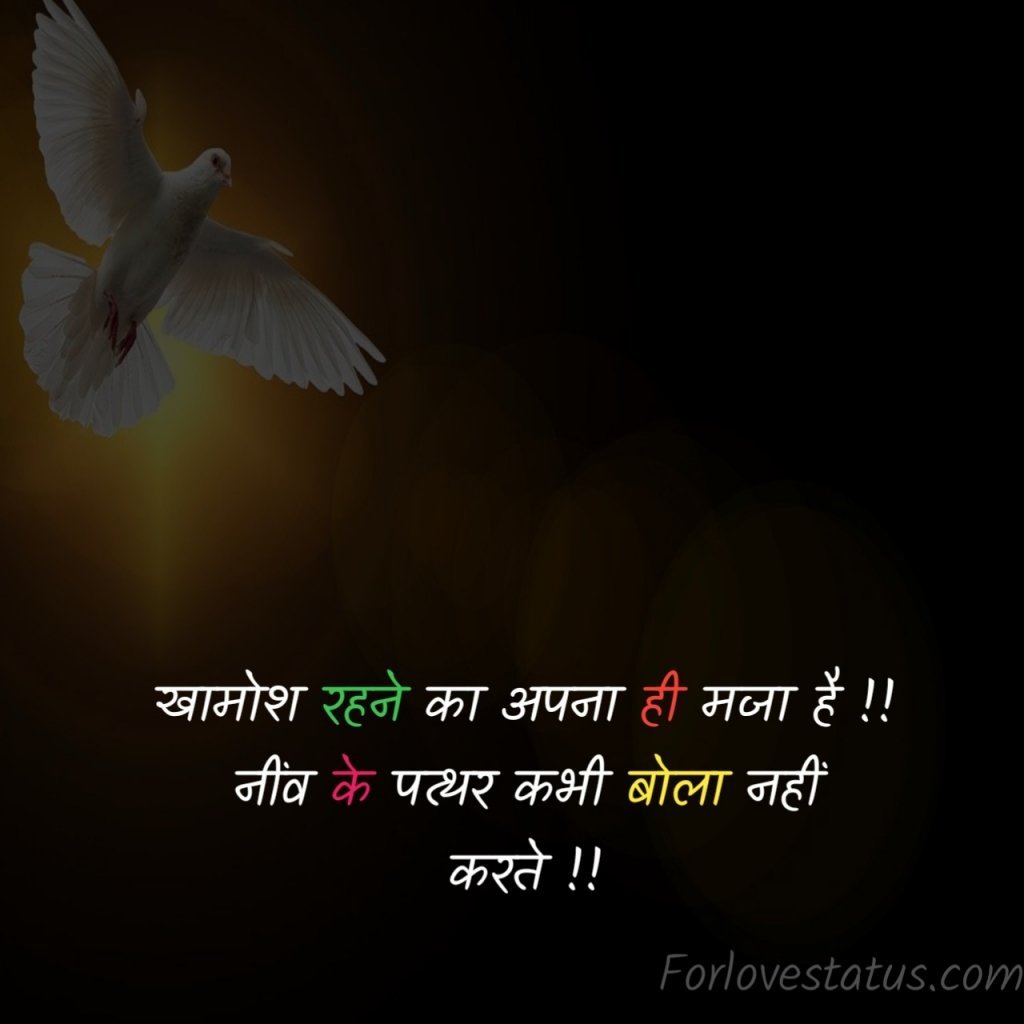 ---
आप वह कारण बने, जिसकी वजह से !!
आज कही कोई मुस्करा दे !!
Aap wah kaaran bane, jisaki wajah se !!
Aaj kahi koi muskara de !!
You became the reason why !!
someone smile today !!
---