Suvichar new
अजीब सिलसिला है ये जिंदगी का !!
कोई भरोसे के लिए रोया !!
कोई भरोसा करके रोया !!
Ajeeb silasila hai ye zindagi ka !!
Koi bharose ke liye roya !!
Koi bharosa karake roya !!
This is a strange cycle of life !!
someone cried for trust !!
someone cried in confidence !!
---
यहाँ रोटी नहीं उम्मीद सबको !!
ज़िन्दा रखती है !!
जो सड़को पर भी सोते हैं !!
सिरहाने ख्वाब रखते है !!
Yahaa roti nahi ummid sab ko !!
Zinda rakhati hai !!
Jo sadako par bhi sote hai !!
Sirahaane khwaab rakhate hai !!
No bread is expected here !!
keeps alive !!
who sleep on the streets !!
dream on head !!
---
जब भी जीवन में मुश्किल घड़ी आती है !!
तो कायर पीछे हट जाता है !!
और मेहनती डट जाता है !!
Jab bhi jeewan me mushkil ghadi aati hai !!
To kaayar pichhe hat jaata hai !!
Aur mehanati dat jaata hai !!
Whenever there are difficult times in life !!
then the coward retreats !!
and hard working !!
---
शक ना कर मेरी हिम्मत पर !!
मैं ख्वाब बुन लेता हूँ !!
टूटे धागों को जोड़कर !!
Shak na kar meri himmat par !!
Mai khwaab bun leta hu !!
Toote dhaago ko jodakar !!
don't doubt my courage !!
i dream !!
connecting broken threads !!
---
जिसके साथ आप हस सकते हो !!
उसके साथ आप पूरा दिन बिता सकते हो !!
लेकिन जिसके सामने आप रो सकते हो !!
उसके साथ आप पूरी जिंदगी बिता सकते हो !!
Jisake saath aap has sakate ho !!
Usake saath aap pura din bita sakate ho !!
Lekin jisake saamane aap ro sakate ho !!
Usake saath aap puri zindagi bita sakate ho !!
with whom you can laugh !!
you can spend the whole day with him !!
but in front of you, you can cry !!
you can spend the rest of your life with him !!
---
ख्वाब तो सब मीठे देखे थे !!
ताज्जुब है !!
आँखों का पानी खारा कैसे हो गया !!
Khwaab to sab mithe dekhe the !!
Tajjub hai !!
Aankho ka paani khara kaise ho gaya !!
Dreams were all sweet !!
wondered !!
How did the eyes become salty !!
---
किताबों की एहमियत !!
अपनी जगह है जनाब !!
सबको वही याद रहता है !!
जो वक्त और लोग सिखाते है !!
Kitaabo ki ehamiyat !!
Apani jagah hai janaab !!
Sabako wahi yaad rahata hai !!
Jo wakt aur log sikhaate hai !!
importance of books !!
you have your place !!
everyone remembers the same !!
what time and people teach !!
---
बच्चे को उपहार ना दिया जाए !!
तो वह कुछ ही समय रोयेगा !!
मगर संस्कार ना दिए जाए !!
तो वह जीवन भर रोयेगा !!
Bachche ko upahaar na diya jaye !!
To wah kuchh hi samay royega !!
Magar sanskaar na diye jaye !!
To wah jeewan bhar royega !!
the child should not be gifted !!
so he'll cry for a while !!
But don't give rituals !!
then he will cry for the rest of his life !!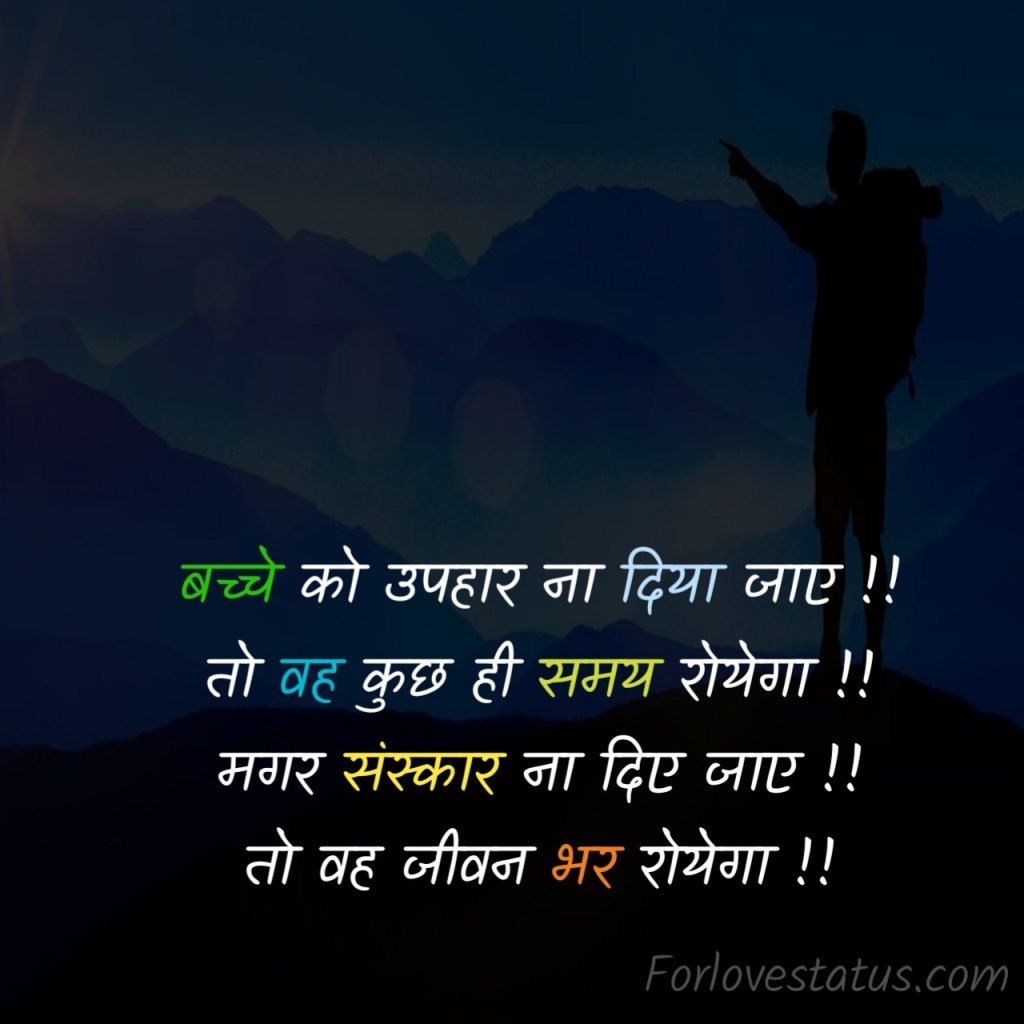 ---
जब दर्द और कड़वी बोली !!
दोनों सहन होने लगे !!
तो समझ लेना जीना आ गया !!
Jab dard aur kadwi boli !!
Dono sahan hone lage !!
To samajh lena jeena aa gaya !!
When pain and bitter speech !!
both began to tolerate !!
So understand that life has come !!
---
कोई याद नहीं करता !!
जब तक मैं खुद न किसी को करू याद !!
ऐसी हालत में कैसे कह दू !!
कि मेरे अपने बहुत हैं !!
Koi yaad nahi karata !!
Jab tak mai khud na kisi ko karu yaad !!
Aisi haalat me kaise kah du !!
Ki mere apane bahut hai !!
no one remembers !!
Until I remember someone myself !!
how to say in such a situation !!
that I have many !!
---