Anmol suvichar in hindi
रुतबा तो खामोशियों का होता है !!
अल्फाज का क्या !!
वो तो बदल जाते हैं !!
अक्सर हालात देखकर !!
Rutba to khaamoshiyon ka hota hai !!
Alfaaz ka kya !!
Wo to badal jaate hai !!
Aksar haalaat dekhakar !!
The status is of silence !!
what about alpha !!
they change !!
often seeing the situation !!
---
जिंदगी एक मिनट में नही बदलती !!
पर एक मिनट में लिया गया !!
फैसला ज़िन्दगी बदल देता है !!
Zindagi ek minat me nahi badalati !!
Par ek minat me liya gaya !!
Faisala zindagi badal deta hai !!
life doesn't change in a minute !!
taken in a minute !!
decision changes lives !!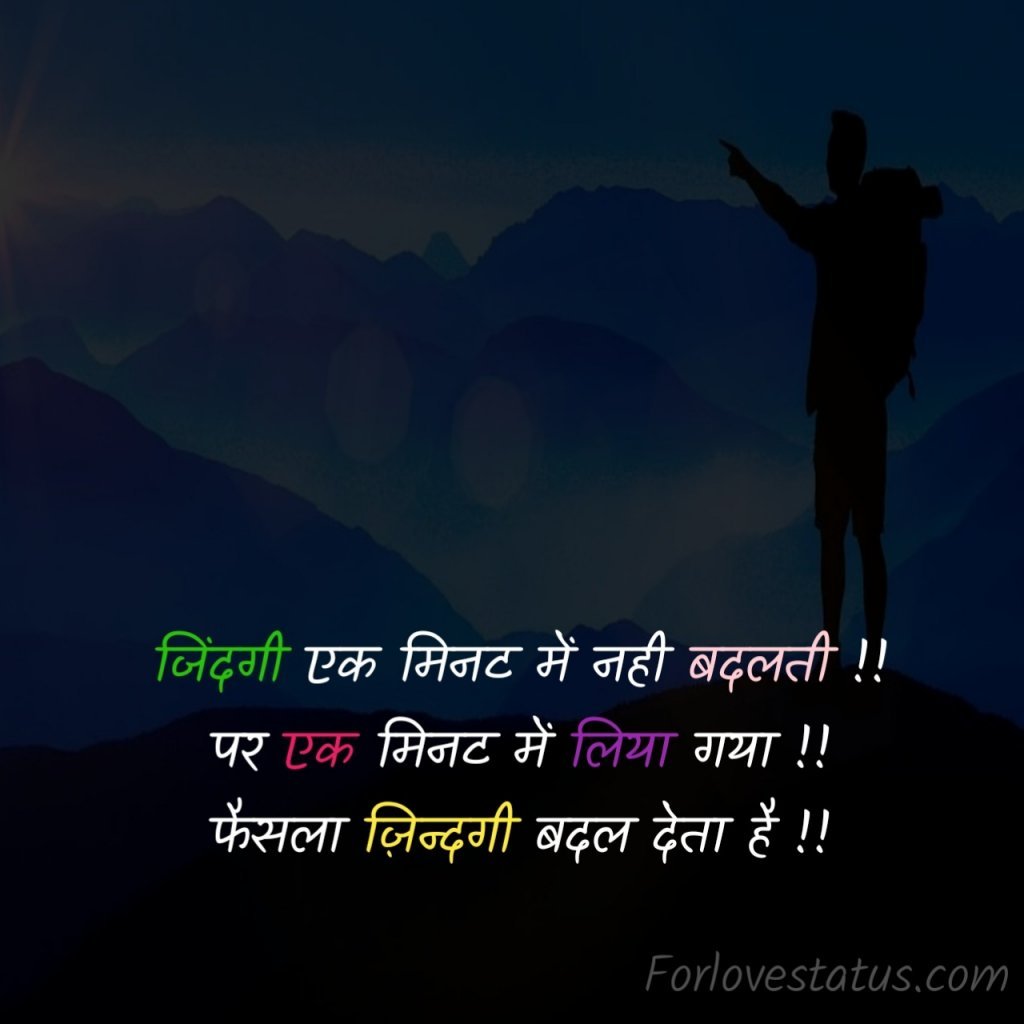 ---
खाना तलाशते कचरे में !!
जाहिर मज़बूरी करते हैं !!
मैं उस देश का वासी हु !!
जहाँ बच्चे मजदूरी करते हैं !!
Khana talaashate kachare me !!
Jaahir mazaboori karate hai !!
Mai us desh ka wasi hu !!
Jahaa bachche majadoori karate hai !!
looking for food in the garbage !!
obviously forced !!
i'm from that country !!
where children work !!
---
मेरे शब्दों को इतने गौर से !!
मत पढ़ा कीजिए जनाब !!
थोड़ा कुछ भी याद रह गया तो !!
मुझे भुला नहीं पाओगे !!
Mere shabdo ko itane gaur se !!
Mat padha kijiye janaab !!
Thoda kuchh bhi yaad rah gaya to !!
Mujhe bhula nahi paoge !!
my words so carefully !!
don't read man !!
if anything is missing !!
can't forget me !!
---
ना जाने कैसे परखता है !!
मुझे मेरा खुदा !!
इम्तिहान भी सख्त लेता है !!
और मुझे हारने भी नहीं देता !!
Na jaane kaise parakhata hai !!
Mujhe mera khuda !!
Imtihaan bhi sakht leta hai !!
Aur mujhe haarane bhi nahi deta !!
don't know how to test !!
me my god !!
Takes the test too hard !!
And don't let me lose !!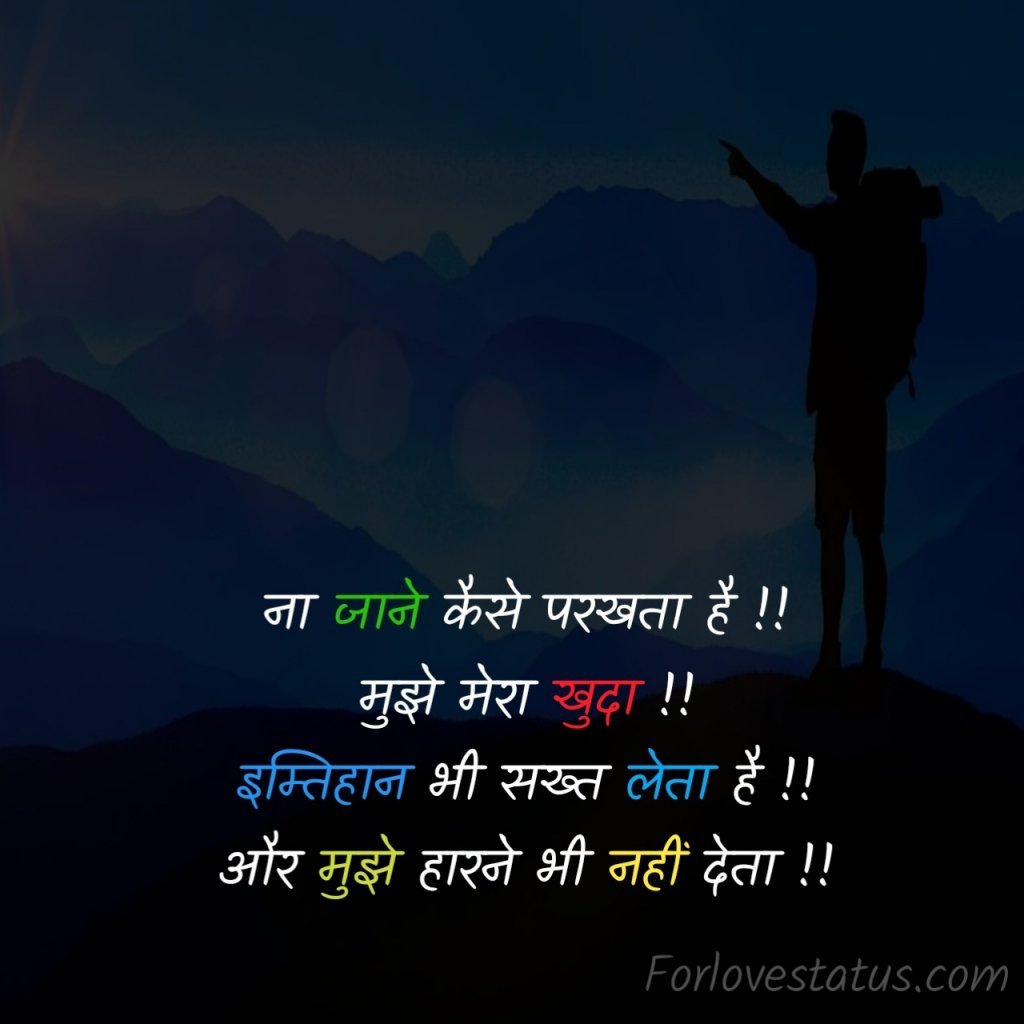 ---
रास्ते कहाँ ख़त्म होते हैं !!
जिंदगी के सफर में !!
मंजिले तो वही हैं !!
जहाँ ख्वाहिशें थम जाएं !!
Raaste kahaa khatm hote hai !!
Zindagi ke safar me !!
Manzile to wahi hai !!
Jahaan khwahishen tham jaye !!
where do the roads end !!
in life's journey !!
the floors are the same !!
where dreams end !!
---
अगर जीवन में जंग अपनो से हो !!
तो उसे हार जाना चाहिये !!
क्योंकि ज़िन्दगी में कुछ रिश्ते !!
बहुत अनमोल होते हैं !!
Agar jeewan me jang apano se ho !!
To use haar jaana chaahiye !!
Kyonki zindagi me kuchh rishte !!
Bahut anamol hote hai !!
If there is a war in life with yourself !!
then he must lose !!
Because some relationships in life !!
are very valuable !!
---
मिली थी जिंदगी !!
किसी के काम आने के लिए !!
पर वक़्त बीत रहा है !!
कागज़ के टुकड़े कमाने के लिए !!
Mili thi zindagi !!
Kisi ke kaam aane ke liye !!
Par waqt beet raha hai !!
Kaagaz ke tukade kamaane ke liye !!
got life !!
to work for someone !!
but time is passing !!
to earn pieces of paper !!
---
जो लोग अंदर से मर जाते हैं !!
अक्सर वही दूसरों को जीना सिखाते हैं !!
Jo log andar se mar jaate hai !!
Aksar wahi dusaro ko jeena sikhaate hai !!
people who die inside !!
Often they teach others to live !!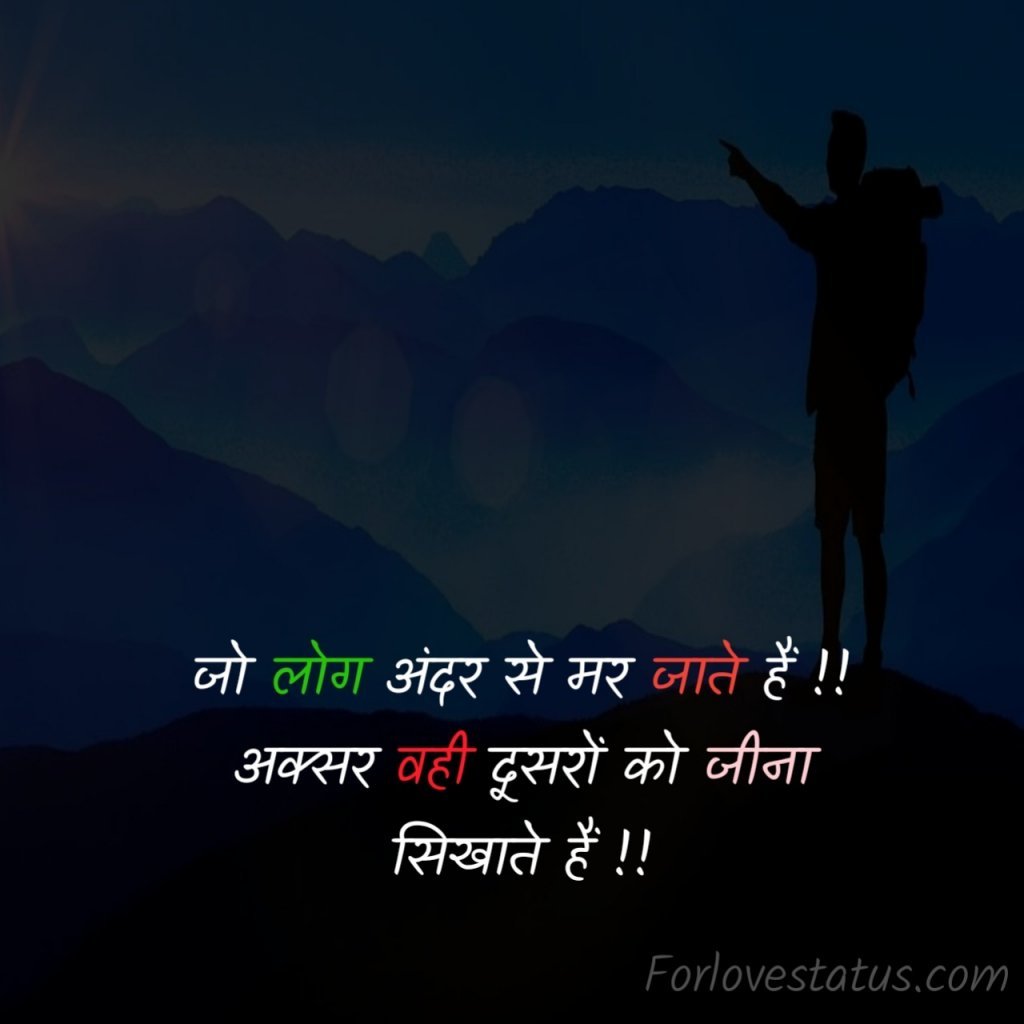 ---
उम्मीदों से बंधा !!
एक जिद्दी परिंदा है इंसान !!
जो घायल भी उम्मीदों से है !!
और ज़िन्दा भी उम्मीदों पर हैं !!
Ummido se bandha !!
Ek jiddi parinda hai insaan !!
Jo ghayal bhi ummidon se hai !!
Aur zinda bhi ummidon par hai !!
bound by hope !!
man is a stubborn bird !!
who is also injured !!
And alive are also on hope !!
---