Suvichar wallpaper
ज़िन्दगी में ये मायने नही रखता कि !!
आपने ज़िन्दगी को कितना जिया !!
बल्कि मायने ये रखता है कि !!
आप ज़िन्दगी में कितना खुश रहे !!
Zindagi me ye maayane nahi rakhata ki !!
Aapane zindagi ko kitana jiya !!
Balki maayane ye rakhata hai ki !!
Aap zindagi me kitana khush rahe !!
It doesn't matter in life !!
how much did you live life !!
Rather it matters !!
how happy are you in life !!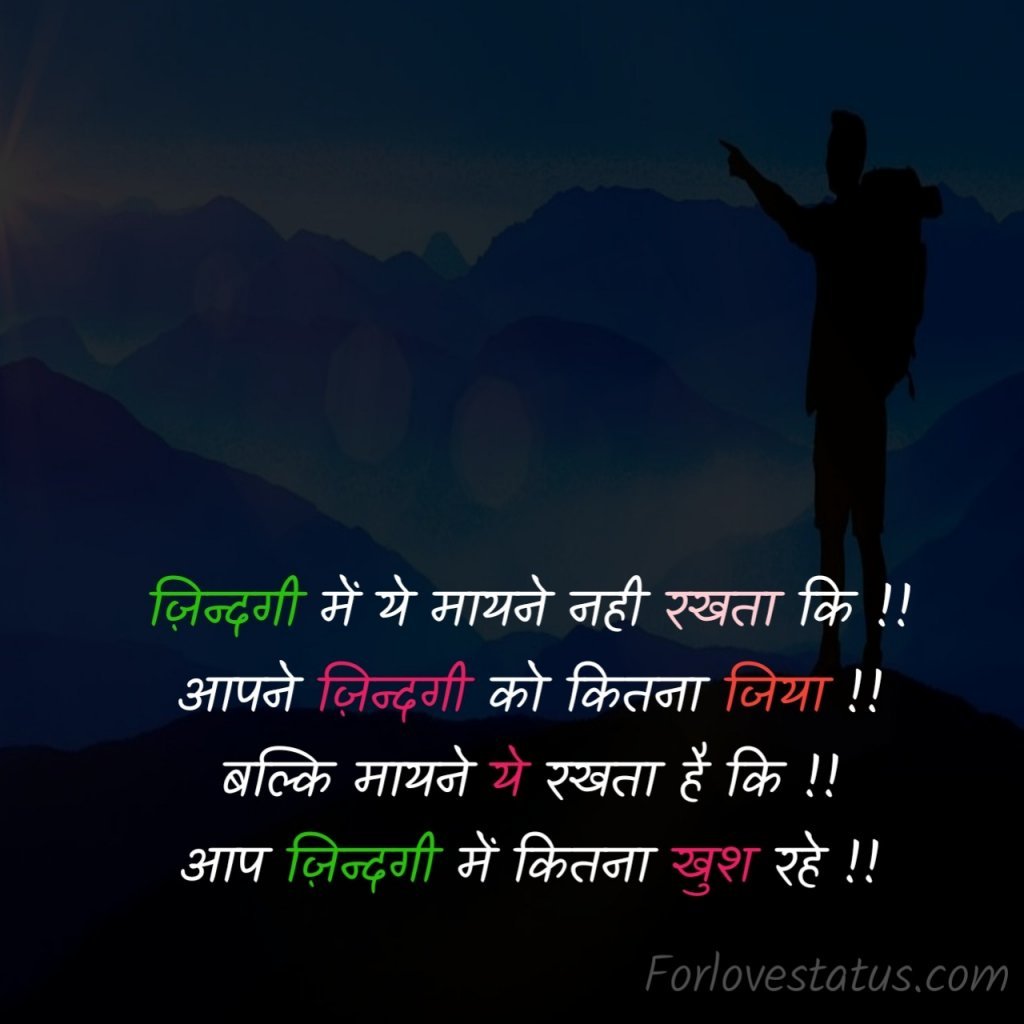 ---
छोटी सी जिंदगी है !!
किस किस को खुश करें साहब !!
जलाते हैं गर चिराग़ !!
तो अँधेरे बुरा मान जाते हैं !!
Chhoti si zindagi hai !!
Kis kis ko khush kare saahab !!
Jalate hai agar chiraag !!
To andhere bura maan jaate hai !!
life is short !!
please please sir !!
if the lamp is lit !!
so the dark feels bad !!
---
हम खुद को बरगद बनाकर !!
ज़माने भर को छाँव बांटते रहे !!
मेरे अपने ही हर दिन !!
मुझको थोड़ा-थोड़ा काटते रहे !!
Ham khud ko baragad banaakar !!
Zamane bhar ko chhaaw baantate rahe !!
Mere apane hi har din !!
Mujhako thoda-thoda kaatate rahe !!
we make ourselves banyan !!
Shade shared all the time !!
every day on my own !!
keep biting me !!
---
माफ़ी मांगने का यह मतलब नहीं है की !!
कौन गलत है कौन सही !!
असली मतलब यह है की !!
हम उस रिश्ते को खोना ही नहीं चाहते !!
Maafi maangane ka yah matalab nahi hai ki !!
Kaun galat hai kaun sahi !!
Asali matalab yah hai ki !!
Ham us rishte ko khona hi nahi chaahate !!
apologizing doesn't mean !!
who is wrong who is right !!
the real meaning is !!
We don't want to lose that relationship !!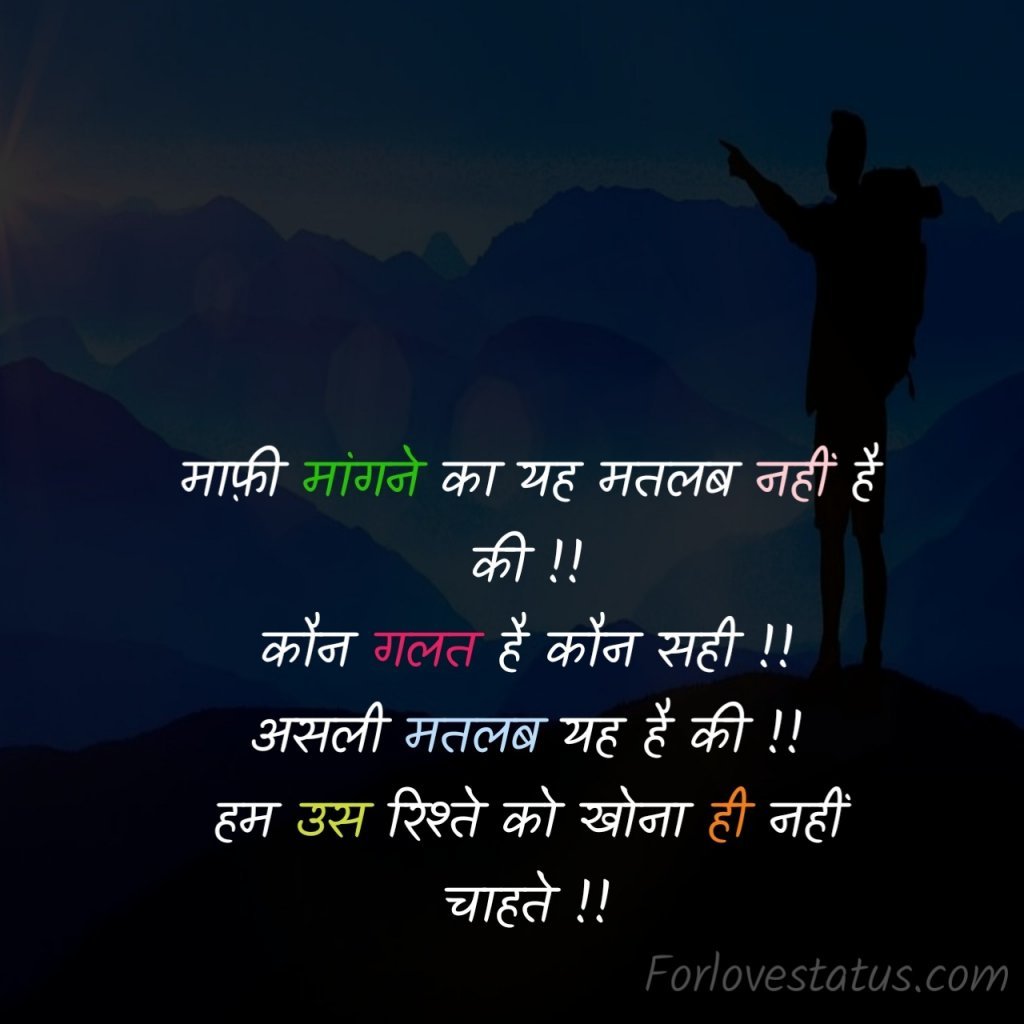 ---
हमे जीवन में कभी गुजरी बातो को नही सोचना चाहिए !!
और न ही आने वाले कल के बारे में !!
सोच कर परेशान होना चाहिए !!
जो आज है बस उसी पल में खुश रहना चाहिए !!
Hame jeewan me kabhi guzari baato ko nahi sochana chaahiye !!
Aur na hi aane wale kal ke baare me !!
Soch kar pareshaan hona chaahiye !!
Jo aaj hai bas usi pal me khush rahana chaahiye !!
We should never think about the past things in life !!
nor about tomorrow !!
must be worried !!
You should be happy in that moment only what you are today !!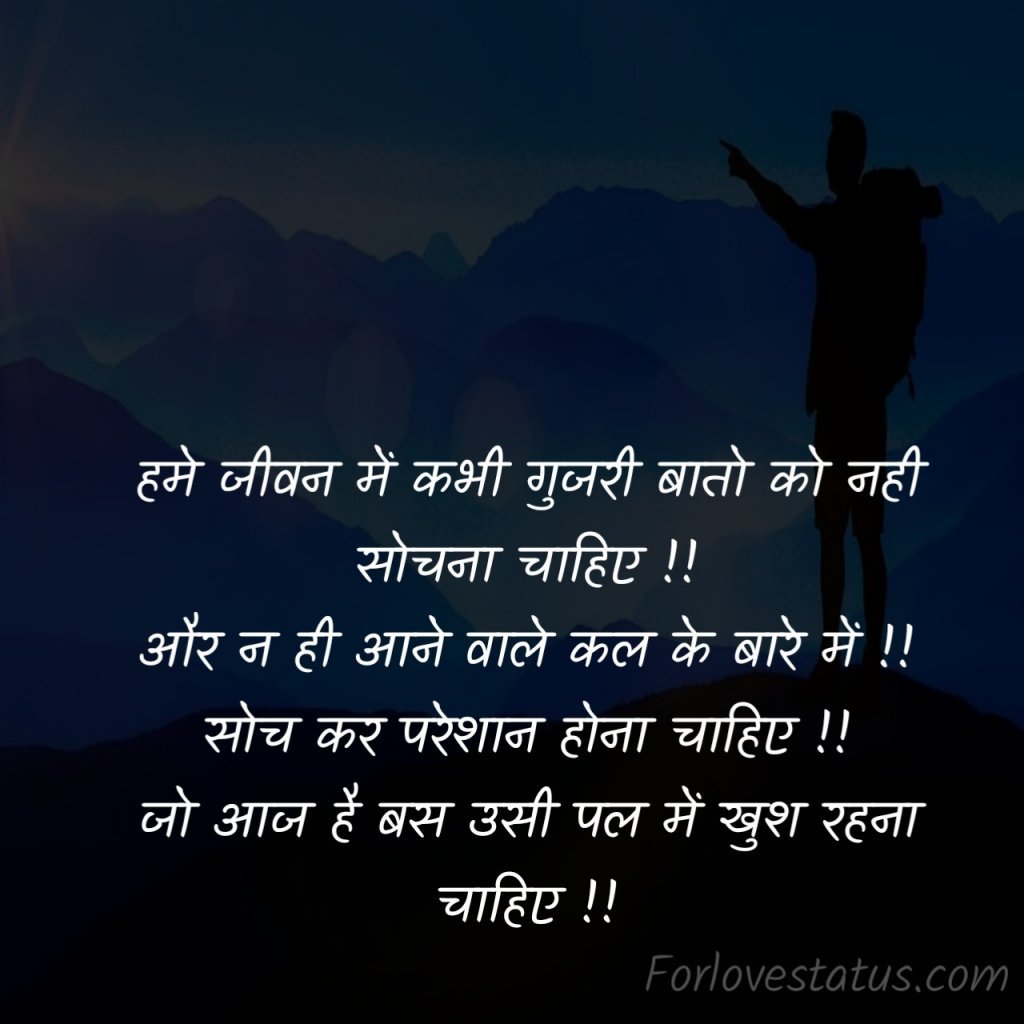 ---
किसी ने क्या खूब कहा हैं !!
अकड़ तो सब में होती हैं !!
झुकता वही हैं !!
जिसे रिश्तों की फ़िक्र होती हैं !!
Kisi ne kya khoob kaha hai !!
Akad to sab me hoti hai !!
Jhukata wahi hai !!
Jise rishton ki fikr hoti hai !!
what has someone said !!
Struggle is there in everyone !!
bends are the same !!
who cares about relationships !!
---
जो इंसान यह कहता है !!
मैंने जीवन में कभी गलती नही की !!
तब समझ लेना की उस इंसान ने !!
कभी कुछ नया करने की कोशिश ही नही की !!
Jo insaan yah kahata hai !!
Maine jeewan me kabhi galati nahi ki !!
Tab samajh lena ki us insaan ne !!
Kabhi kuchh naya karane ki koshish hi nahi ki !!
the person who says this !!
i have never made a mistake in my life !!
then understand that that person !!
never tried anything new !!
---
रो रो कर ढूंढा करोगे एक दिन !!
मेरे जैसे तंग करने वाले को !!
चले जाएंगे हम एक दिन !!
किसी खूबसूरत कफ़न का नसीब बनकर !!
Ro ro kar dhundha karoge ek din !!
Mere jaise tang karane wale ko !!
Chale jayenge ham ek din !!
Kisi khoobasurat kafan ka naseeb banakar !!
you will cry one day !!
to annoy like me !!
we will go one day !!
Destined to be a beautiful shroud !!
---
जीवन में गिरना भी अच्छा है !!
इससे औकात का पता चलता है !!
जब हाथ बढ़ते है उठाने को !!
तब अपनों का पता चलता है !!
Jeewan me girana bhi achchha hai !!
Isase aukaat ka pata chalata hai !!
Jab haath badhate hai uthaane ko !!
Tab apano ka pata chalata hai !!
it's too good to fall in life !!
it shows the merit !!
when the hand rises to raise !!
Then you find out !!
---
किसी की क़दर करनी हैं तो !!
उसके जीते जी करो !!
मरने पर तो नफरत करने वाले भी कह देते हैं !!
"बंदा बहोत अच्छा था"
Kisi ki qadar karani hai to !!
Usake jeete jee karo !!
Marane par to nafarat karane wale bhi kah dete hai !!
"Banda bahut achchha tha"
If you want to appreciate someone !!
live it up !!
Even the haters say when they die !!
dude was very nice !!
---