Today suvichar
जिंदगी में कुछ नया सीखने के लिए !!
यह स्वीकार करना जरूरी है !!
कि हर व्यक्ति किसी न किसी बात में हमसे बेहतर है !!
Zindagi me kuchh naya seekhane ke liye !!
Yah swikaar karana zaroori hai !!
Ki har vyakti kisi na kisi baat me hamase behatar hai !!
to learn something new in life !!
it is necessary to accept !!
that everyone is better than us at some point !!
---
धोखा उस फल का नाम होता है !!
जो आसानी से किसी भी बाजार में मिल जाता है !!
और बहुत खूबसूरत होता है !!
Dhokha us phal ka naam hota hai !!
Jo aasani se kisi bhi baazaar me mil jaata hai !!
Aur bahut khoobasurat hota hai !!
deceit is the name of that fruit !!
which is easily available in any market !!
and very beautiful !!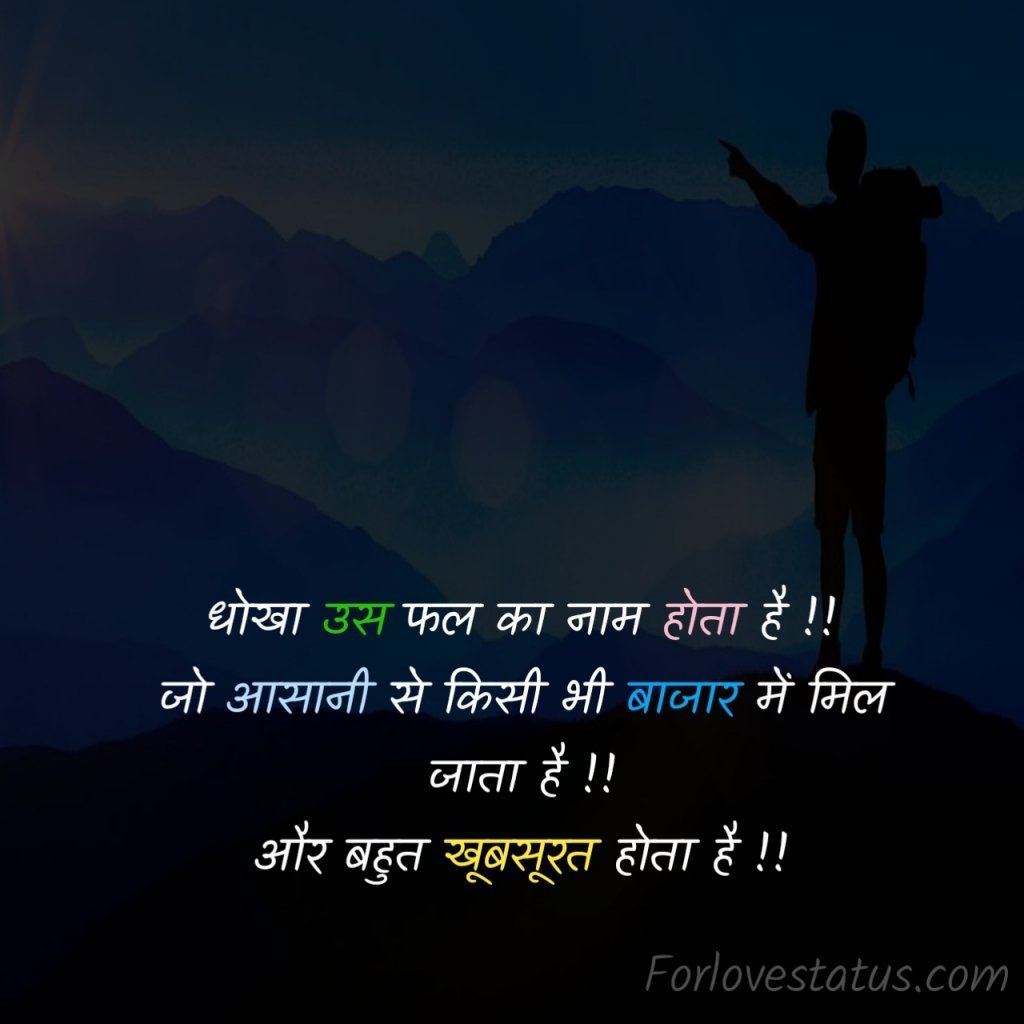 ---
"कामयाब लोग अपने फ़ैसले से दुनिया बदल देते है !!
और नाकामयाब लोग दुनिया के डर से !!
अपने फ़ैसले बदल लेते है !!
"Kaamayab log apane faisale se duniya badal dete hai !!
Aur naakamayab log duniya ke dar se !!
Apane faisale badal lete hai !!
"Successful people change the world with their decisions !!
And the unsuccessful people are afraid of the world !!
change your decisions !!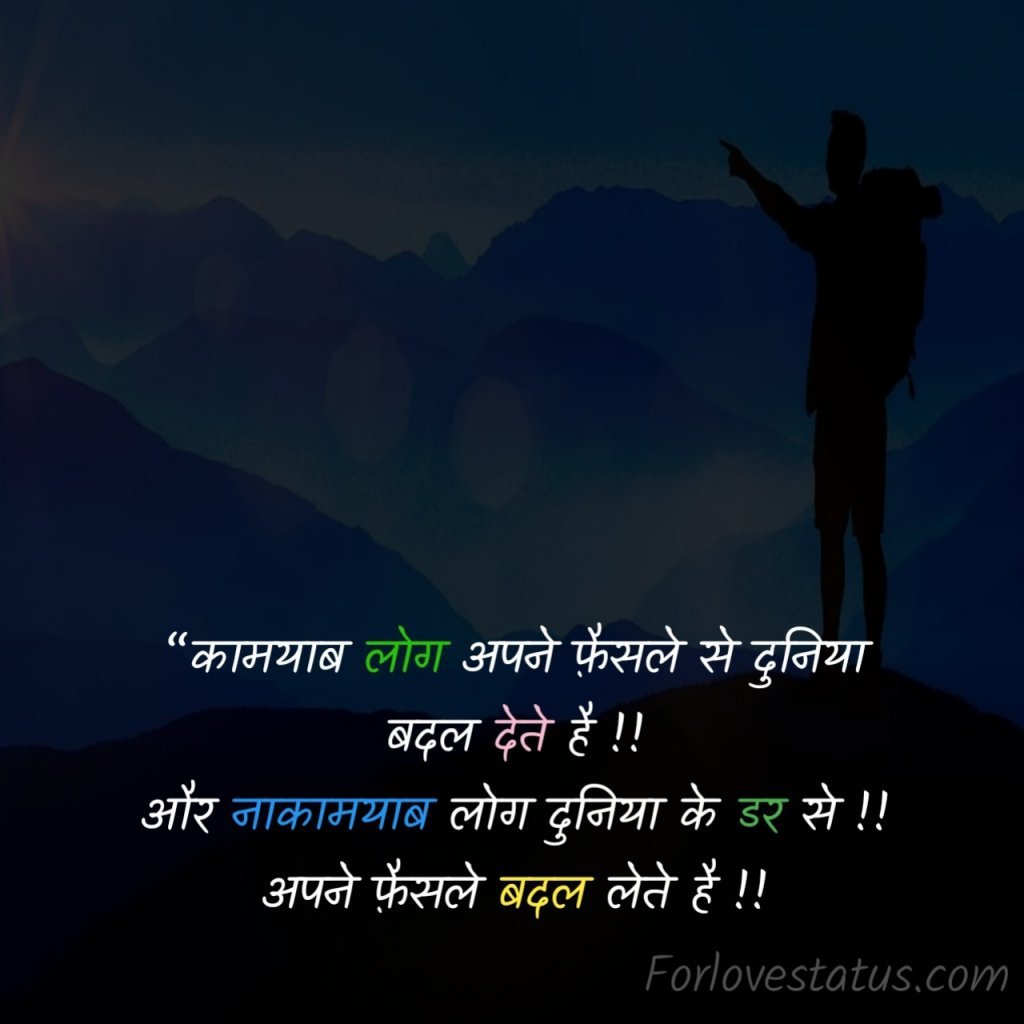 ---
"एक बेहतरीन इंसान अपनी ज़ुबान !!
और कर्मों से ही पहचाना जाता है !!
वरना अच्छी बातें तो दीवारों पर भी लिखी होती है !!
"Ek behatarin insaan apani zubaan !!
Aur karmo se hi pahachaana jaata hai !!
Warana achchhi baate to diwaaro par bhi likhi hoti hai !!
"A great man with his tongue !!
And it is known only by deeds !!
Otherwise good things are written on the walls too !!
---
मिट्टी का मटका और परिवार की क़ीमत !!
सिर्फ बनाने वाले को ही पता होती है !!
तोड़ने वाले को नहीं !!
Mitti ka mataka aur pariwar ki keemat !!
Sirf banane wale ko hi pata hoti hai !!
Todane wale ko nahi !!
clay pot and family price !!
only the creator knows !!
not to break !!
---
आदमी अच्छा था !!
यह सुनने के लिए !!
आपको मरना पड़ता है !!
Aadami achchha tha !!
Yah sunane ke liye !!
Aapako marna padata hai !!
man was nice !!
to hear it !!
you have to die !!
---
ज़िन्दगी एक खेल है !!
ये आपको तय करना है !!
आपको खेल बनना है या खिलाड़ी !!
Zindagi ek khel hai !!
Ye aapako tay karana hai !!
Aapako khel banana hai ya khilaadi !!
life is a game !!
you have to decide !!
you want to be a game or a player !!
---
निंदा से घबराकर अपने लक्ष्य को न छोड़े !!
क्योंकि लक्ष्य प्राप्त होते ही !!
निंदा करने वालो की राय बदल जाती है !!
Ninda se ghabarakar apane lakshy ko na chhode !!
Kyonki lakshy prapt hote hi !!
Ninda karane walo ki ray badal jaati hai !!
Don't give up on your goal in fear of condemnation !!
because the goal is achieved !!
the critics change their opinion !!
---
हमे अपनी ज़िन्दगी में नकारात्मक सोच को !!
तुरन्त बदल लेना चाहिए !!
जब आपकी सोच सकारात्मक होगी !!
तभी आपको कामयाबी मिलना शुरू होगी !!
Hame apani zindagi me nakaratmak soch ko !!
Turant badal lena chaahiye !!
Jab aapaki soch sakaaratmak hogi !!
Tabhi aapako kaamayabi milana shuru hogi !!
we should avoid negative thinking in our life !!
should be changed immediately !!
when your thinking is positive !!
then you will start getting success !!
---
जो लोग अपने जीवन में !!
बहुत जल्दी गुस्सा करते हैं !!
वो लोग वास्तव में दिल के !!
बड़े सच्चे होते हैं !!
Jo log apane jeewan me !!
Bahut jaldi gussa karate hai !!
Wo log wastav me dil ke !!
Bade sachche hote hai !!
people in their lives !!
get angry very quickly !!
those people are really !!
are very honest !!
---