WhatsApp suvichar images
मैंने अपनी जिंदगी में !!
सारे महंगे सबक !!
सस्ते लोगों से ही सीखे हैं !!
Maine apani zindagi me !!
Saare mahange sabak !!
Saste logo se hi seekhe hai !!
in my life !!
all expensive lessons !!
learned from cheap people !!
---
इतवार में भी कुछ यूँ हो गयी है मिलावट !!
छुट्टी तो दिखती है !!
पर सुकून नजर नहीं आता !!
Itawaar me bhi kuchh yu ho gayi hai milawat !!
Chhutti to dikhati hai !!
Par sukoon nazar nahi aata !!
Something like this has happened on Sunday too !!
looks like a holiday !!
but don't feel comfortable !!
---
स्वीकार करने की हिम्मत !!
और सुधार करने की नीयत हो तो !!
इंसान बहुत कुछ सीख सकता है !!
Swikaar karane ki himmat !!
Aur sudhaar karane ki niyat ho to !!
Insaan bahut kuchh seekh sakata hai !!
dare to admit !!
and intend to improve !!
man can learn a lot !!
---
"कोशिश"आखिरी सांस तक करनी चाहिए !!
या तो "लक्ष्य" हासिल होगा या "अनुभव" !!
दोनों जीवन जीने के लिए ज़रूरी है !!
"Koshish"aakhiri saans tak karani chaahiye !!
Ya to "lakshy" haasil hoga ya "anubhav" !!
Dono jeewan jine ke liye zaroori hai !!
"Try" should be done till the last breath !!
Either "target" will be achieved or "experience" !!
both are necessary for life !!
---
दुनिया बड़ी भुलक्कड़ है !!
वह उतना ही याद रख पाती है !!
जितने में उसका स्वार्थ होता है !!
Duniya badi bhulakkad hai !!
Wah utana hi yaad rakh paati hai !!
Jitane me usaka swarth hota hai !!
the world is so stupid !!
that's all she can remember !!
as he is selfish !!
---
देर से बनो लेकिन कुछ जरूर बनो !!
क्योंकि लोग वक्त के साथ खैरियत नहीं !!
हैसियत पूछते हैं !!
Der se bano lekin kuchh zaroor bano !!
Kyonki log wakt ke saath khairiyat nahi !!
Haisiyat poochhate hai !!
be late but be sure !!
Because people don't get along well with time !!
ask for status !!
---
अपने विकास के लिए !!
अंतिम समय तक संघर्ष कीजिए !!
संघर्ष ही जीवन है !!
Apane vikaas ke liye !!
Antim samay tak sangharsh kijiye !!
Sangharsh hi jeewan hai !!
for your development !!
fight till the end !!
struggle is life !!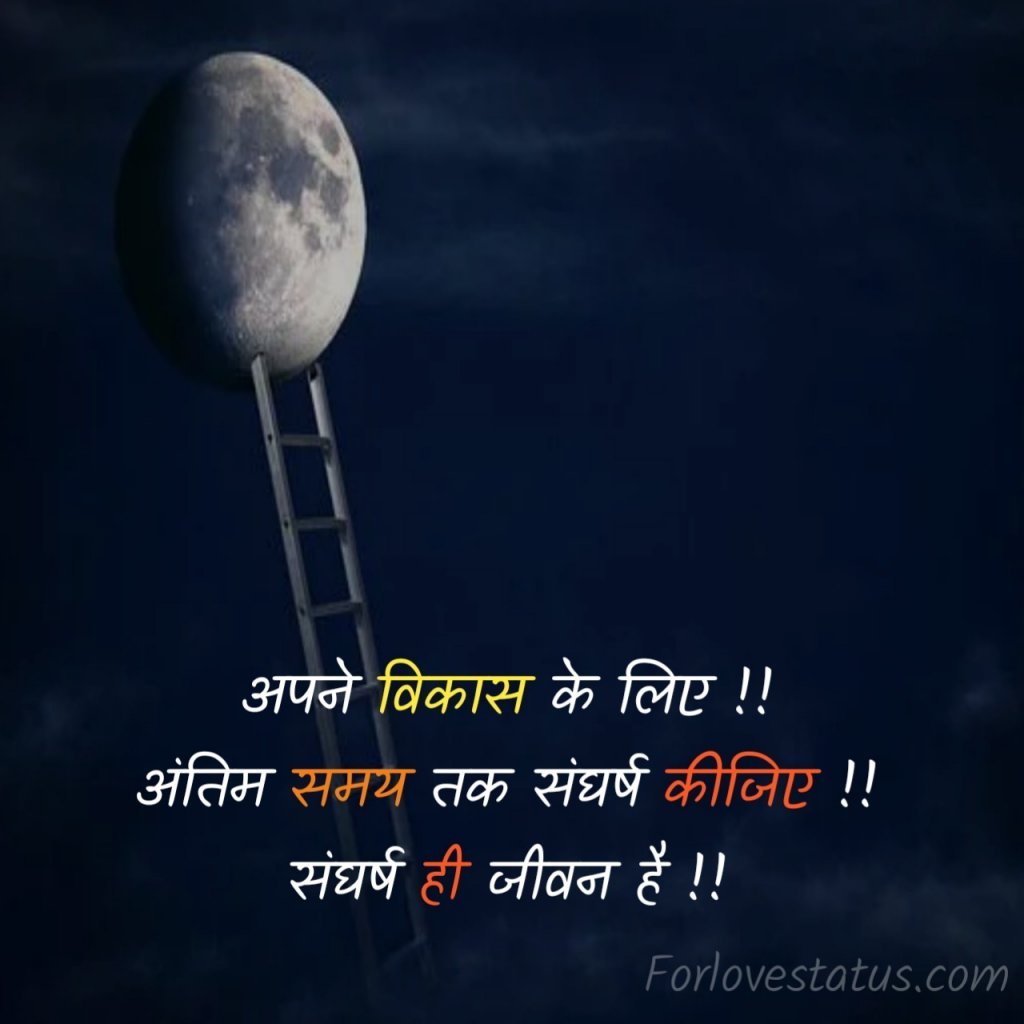 ---
विकल्प बहुत है बिखरने के लिए !!
संकल्प एक ही काफी है !!
जीवन सवारने के लिए !!
Vikalp bahut hai bikharane ke liye !!
Sankalp ek hi kaafi hai !!
Jeewan sawarane ke liye !!
Too many options to scatter !!
resolution is enough !!
to ride life !!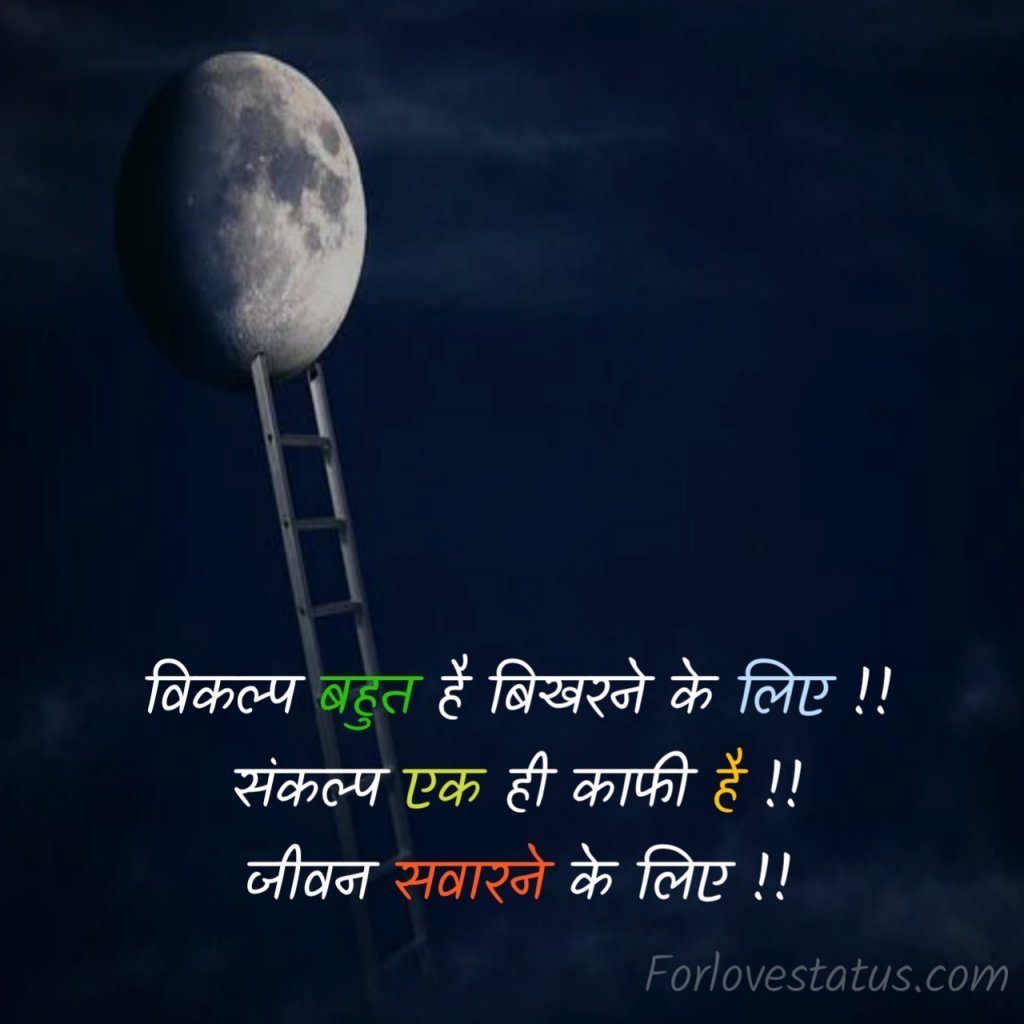 ---
भलाई करना,कर्तव्य नहीं आनंद है !!
क्योंकि यह आपके स्वास्थ्य और सुख !!
में वृद्धि करता है !!
Bhalai karana,kartavy nahi aanand hai !!
Kyonki yah aapake swasthy aur sukh !!
Me vriddhi karata hai !!
Doing good is not a duty but pleasure !!
Because it's your health and happiness !!
increases in !!
---
"आवेश" ऐसा दुर्गुण है !!
जो बुद्धि, बल, शक्ति, क्षमता !!
सब का विनाश कर देता है !!
"Aavesh" aisa durgun hai !!
Jo buddhi, bal, shakti, kshamata !!
Sab ka vinaash kar deta hai !!
"passion" is such an evil !!
intelligence, strength, power, ability !!
destroys all !!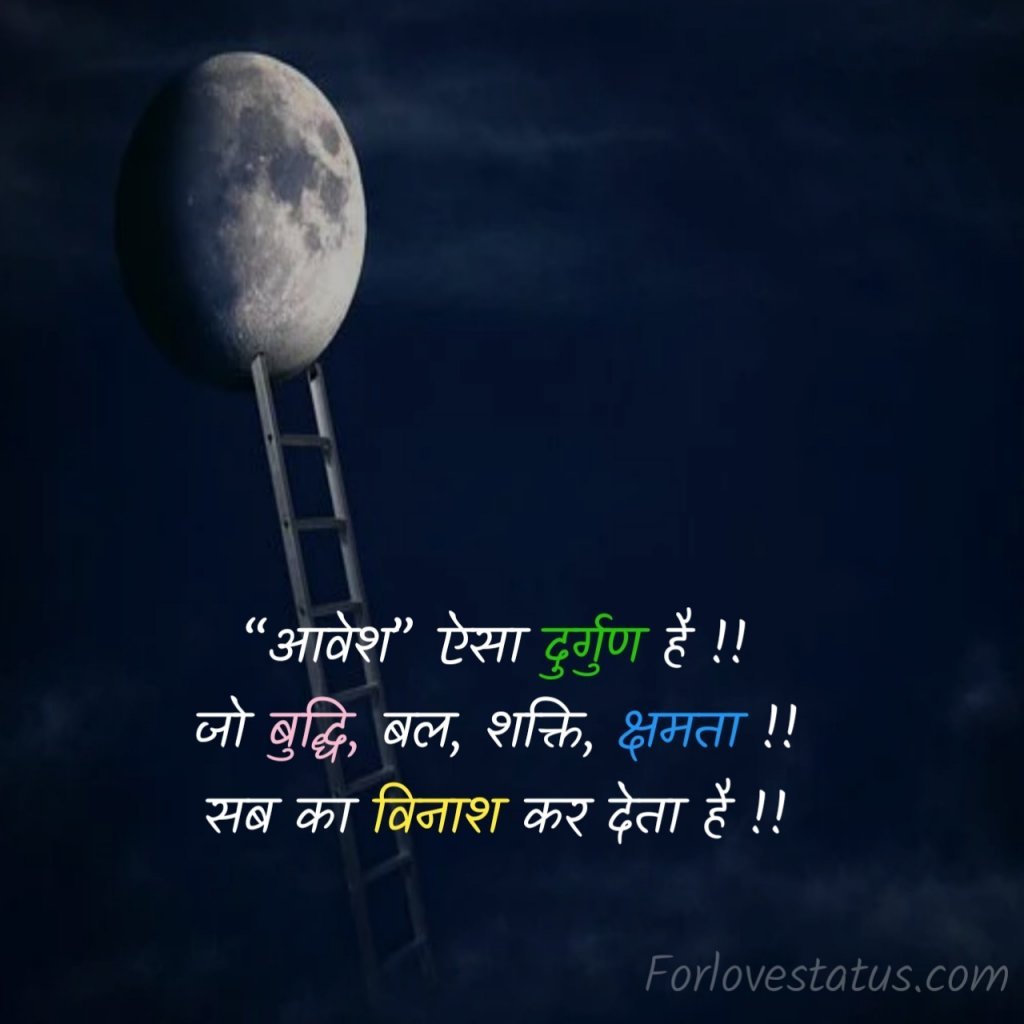 ---