प्रेरणादायक सुविचार इन हिंदी
इंसान दो मामलों में बेबस है !!
दुख बेच नहीं सकता !!
और सुख खरीद नहीं सकता है !!
Insaan do maamalo me bebas hai !!
Dukh bech nahi sakata !!
Aur sukh khareed nahi sakata hai !!
Man is helpless in two respects !!
misery can't sell !!
And happiness can't buy !!
---
रिश्तों को शब्दों का ,मोहताज ना बनाइये !!
अगर अपना कोई खामोश हैं !!
तो खुद ही आवाज लगाइये !!
Rishto ko shabdo ka ,mohataaj na banaiye !!
Agar apana koi khaamosh hai !!
To khud hi aawaz lagaiye !!
Don't make relationships into words !!
If you are silent !!
then sound yourself !!
---
किसने चलाया ये !!
तोहफे लेने-देने का रिवाज !!
गरीब आदमी मिलने-जुलने से भी डरता हैं !!
Kisne chalaya ye !!
Tohafe lene-dene ka riwaaz !!
Garib aadami milane-julane se bhi darata hai !!
who did this !!
the custom of giving gifts !!
Poor man is afraid to even meet !!
---
जीवन में कभी आपको किसी चीज से डर लगे !!
तो उसे कभी अपने ऊपर हावी मत होने दो !!
बल्कि उस पर हमला करके उसे खत्म कर दो !!
Jeewan me kabhi aapako kisi cheez se dar lage !!
To use kabhi apane upar haavi mat hone do !!
Balki us par hamala karake use khatm kar do !!
Have you ever been afraid of anything in life !!
so don't ever let him dominate you !!
rather attack him and kill him !!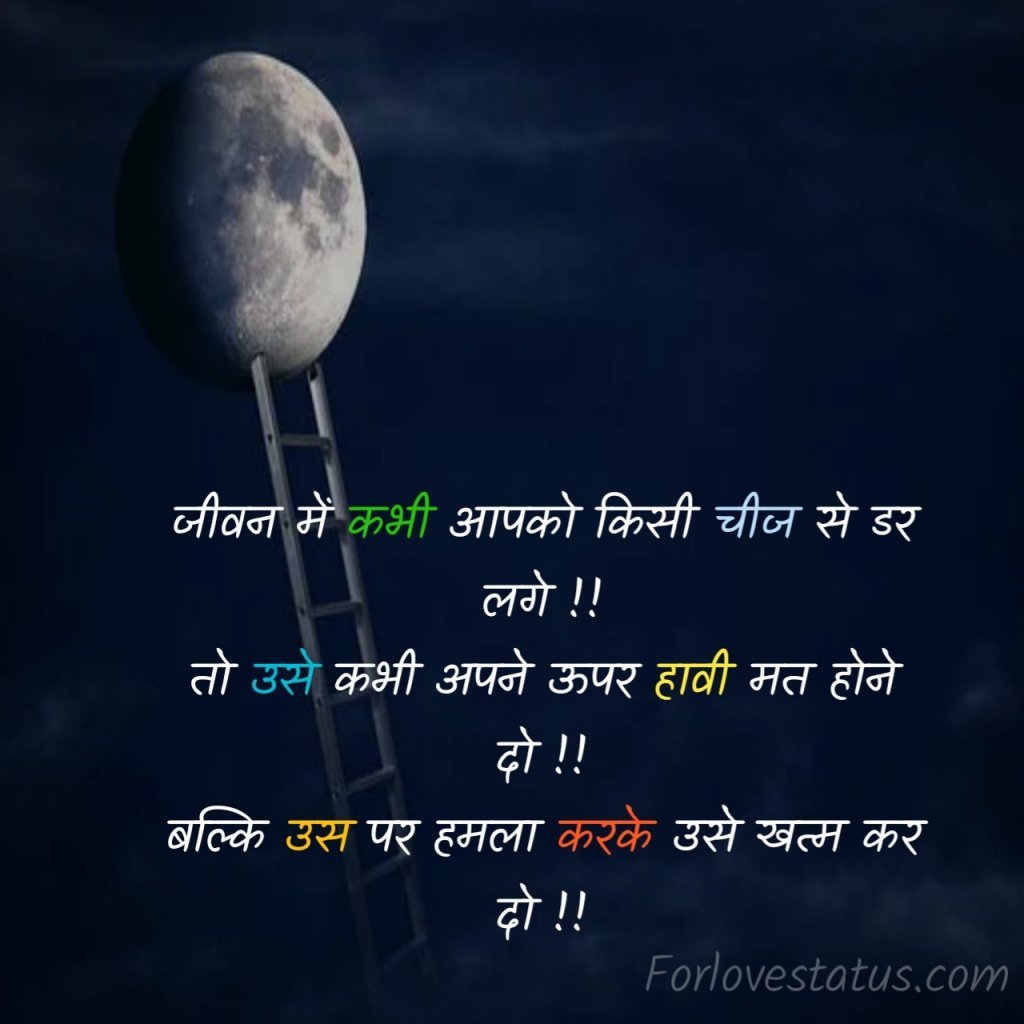 ---
जिस दिन आपको पता चलेगा के !!
नेकी करने से मन को शांति मिलती हैं !!
उस दिन आप बुरा काम करना छोड़ देंगे !!
Jis din aapako pata chalega ki !!
Neki karane se man ko shaanti milati hai !!
Us din aap bura kaam karana chhod denge !!
the day you will know !!
Doing good gives peace of mind !!
that day you will stop doing bad things !!
---
कभी कभी हम किसी के लिए !!
उतना जरुरी भी नहीं होते !!
जितना हम सोच लेते हैं !!
Kabhi kabhi ham kisi ke liye !!
Utana zaruri bhi nahi hote !!
Jitana ham soch lete hai !!
sometimes for us !!
not so necessary !!
more than we think !!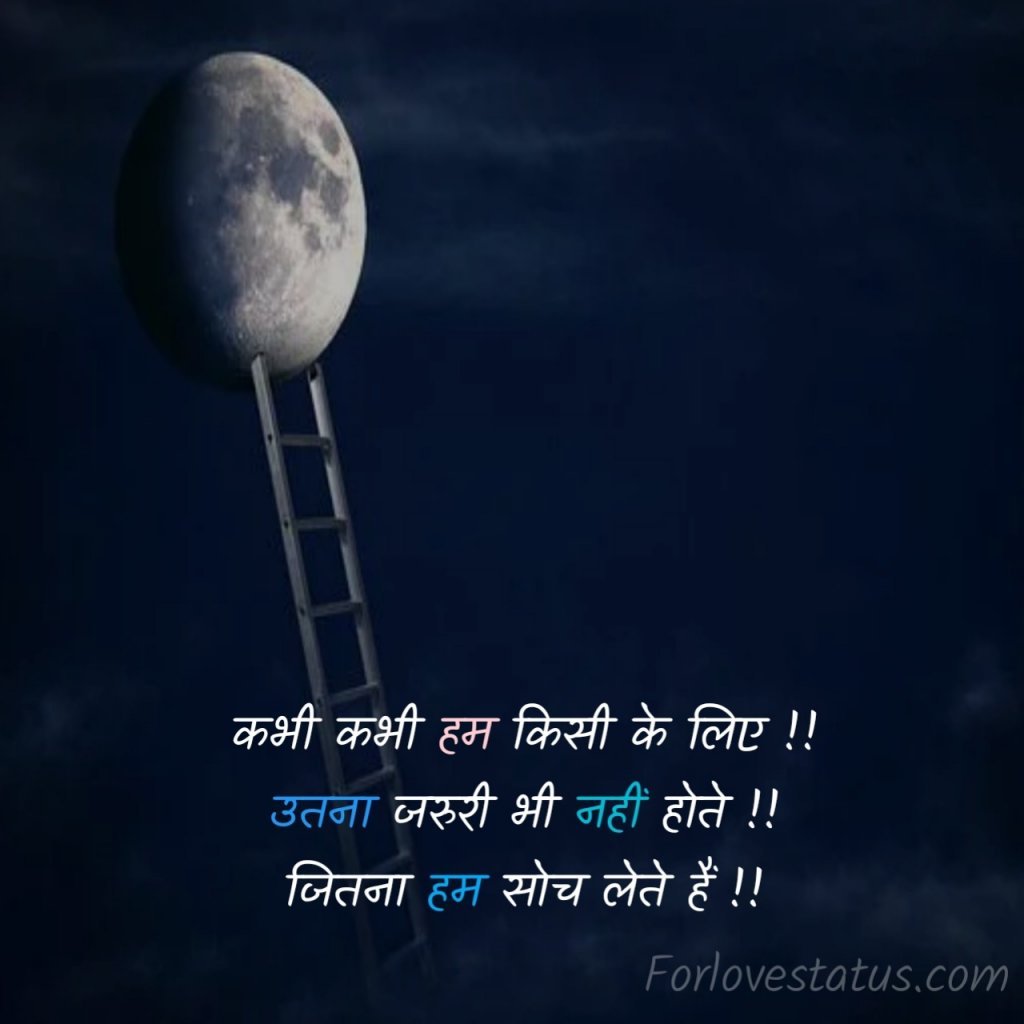 ---
हम क्या हैं वो सिर्फ हम जानते हैं !!
लोग सिर्फ हमारे बारे में अंदाजा ही !!
लगा सकते हैं !!
Ham kya hai vo sirf ham jaanate hai !!
Log sirf hamare baare me andaaza hi !!
Laga sakate hai !!
what we are only we know !!
people only know about us !!
can put !!
---
जीवन में कभी भी अपने रहस्य !!
किसी अन्य व्यक्ति को नही बताना चाहिये !!
क्योंकि ये आपके लिए भारी मुसीबत बन सकती है !!
Jeewan me kabhi bhi apane rahasy !!
Kisi any vyakti ko nahi batana chaahiye !!
Kyonki ye aapake liye bhaari musibat ban sakati hai !!
never your secrets in life !!
don't tell anyone else !!
Because it can become a big problem for you !!
---
ख्वाहिशें कम हो तो !!
पत्थरों पर भी नींद आ जाती है !!
वरना मखमल का बिस्तर भी चुभता है !!
Khwaahishe kam ho to !!
Pattharo par bhi nind aa jaati hai !!
Warana makhamal ka bistar bhi chubhata hai !!
wishes are low !!
sleep on stones !!
Otherwise the velvet bed also stings !!
---
रिश्ता जो भी हो !!
मज़बूत होना चाहिए !!
मजबूर नहीं !!
Rishta jo bhi ho !!
Mazaboot hona chaahiye !!
Mazaboor nahi !!
Whatever the relationship !!
Must be strong !!
not forced !!
---