Motivational suvichar
आईना तू बता !!
क्यों न तुझे तमाशा कहूँ !!
हर आदमी ठहरता है जहाँ तू खड़ा हुआ !!
Aaina tu bata !!
Kyon na tujhe tamaasha kahu !!
Har aadami thaharata hai jahaa tu khada hua !!
the mirror you tell !!
Why don't I tell you a farce !!
every man stays where you stood !!
---
खुद से ज्यादा संभाल कर रखता हूँ !!
मोबाईल अपना !!
क्योंकि रिश्ते सारे अब इसी में कैद हैं !!
Khud se jyada sambhaal kar rakhata hu !!
Mobile apana !!
Kyonki rishte saare ab isi me kaid hai !!
take care of myself !!
my Mobile !!
Because all the relationships are now imprisoned in this !!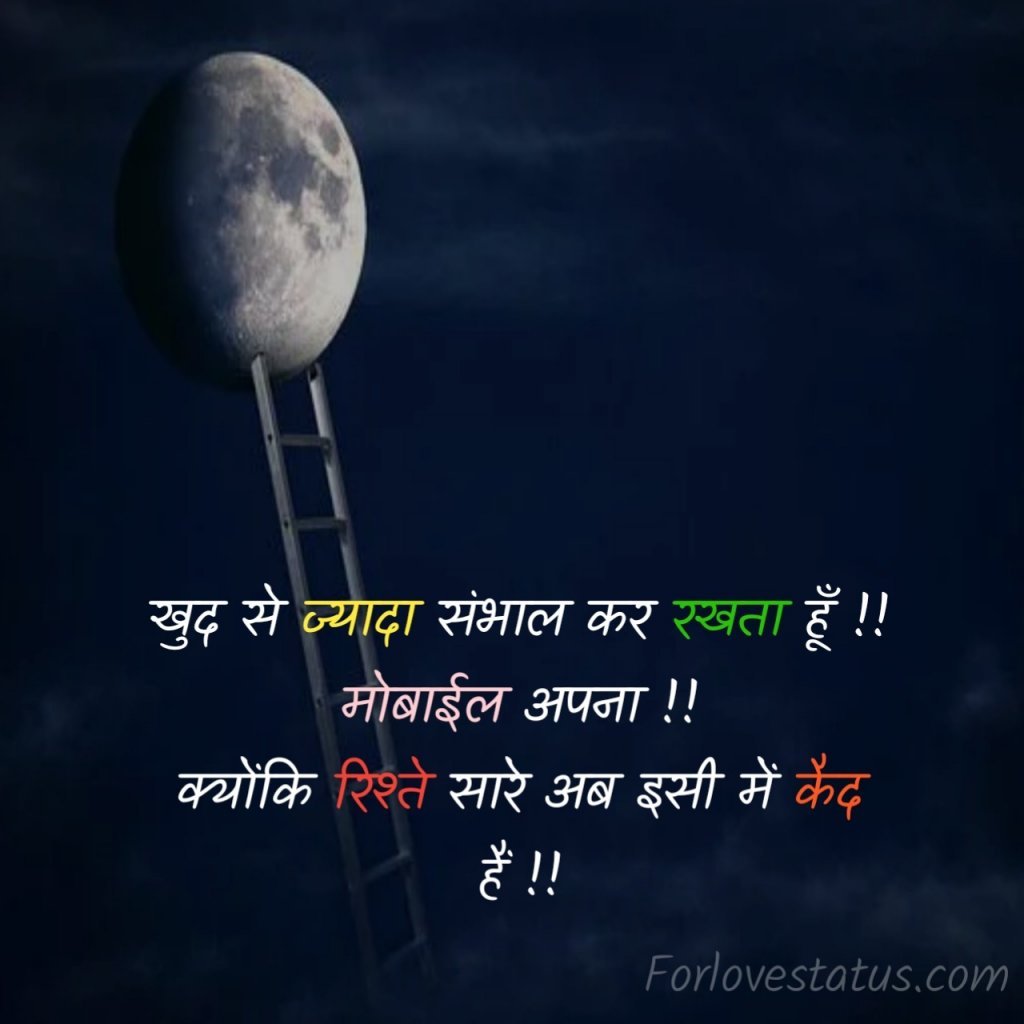 ---
न जाने जिंदगी का ये कैसा दौर है !!
इंसान खामोश हैं !!
और ऑनलाइन कितना शोर है !!
Na jaane Zindagi ka ye kaisa daur hai !!
Insaan khaamosh hai !!
Aur online kitana shor hai !!
I don't know what phase of life it is !!
humans are silent !!
And how noisy is online !!
---
कभी-कभी हम ग़लत नहीं होते !!
लेकिन हमारे पास वो शब्द ही नही होते !!
जो हमें सही साबित कर सकें !!
Kabhi-kabhi ham galat nahi hote !!
Lekin hamare paas wo shabd hi nahi hote !!
Jo hame sahi saabit kar sake !!
sometimes we're not wrong !!
But we don't have those words !!
who can prove us right !!
---
समय की कीमत अखबार से पूछो !!
जो सुबह चाय के साथ होता है !!
वही रात को रद्दी हो जाता है !!
Samay ki kimat akhabaar se puchho !!
Jo subah chaay ke saath hota hai !!
Wahi raat ko raddi ho jaata hai !!
ask the newspaper the value of time !!
what happens with tea in the morning !!
the same night gets trashed !!
---
उस सुख का क्या महत्व !!
जो थोड़ी-बहुत वेदना का अनुभव !!
किए बिना ही मिला हो !!
Us sukh ka kya mahatv !!
Jo thodi-bahut vedana ka anubhav !!
Kiye bina hi mila ho !!
what is the significance of that happiness !!
who experiences little pain !!
got without doing !!
---
पूरी दुनिया जीतकर भी !!
यदि माता-पिता का दिल नहीं जीता !!
तो वह जित भी हार के समान है !!
Poori duniya jeetakar bhi !!
Yadi maata-pita ka dil nahi jita !!
To wah jit bhi haar ke samaan hai !!
even after winning the whole world !!
If parents don't win hearts !!
So whatever it is is like a loss !!
---
वे हमेशा कहते हैं !!
समय के साथ सब बदल जाता है !!
लेकिन वास्तव में आप ही को उन्हें बदलना होता है !!
We hamesha kahate hai !!
Samay ke saath sab badal jaata hai !!
Lekin wastav me aap hi ko unhe badalana hota hai !!
they always say !!
everything changes with time !!
but really you have to change them !!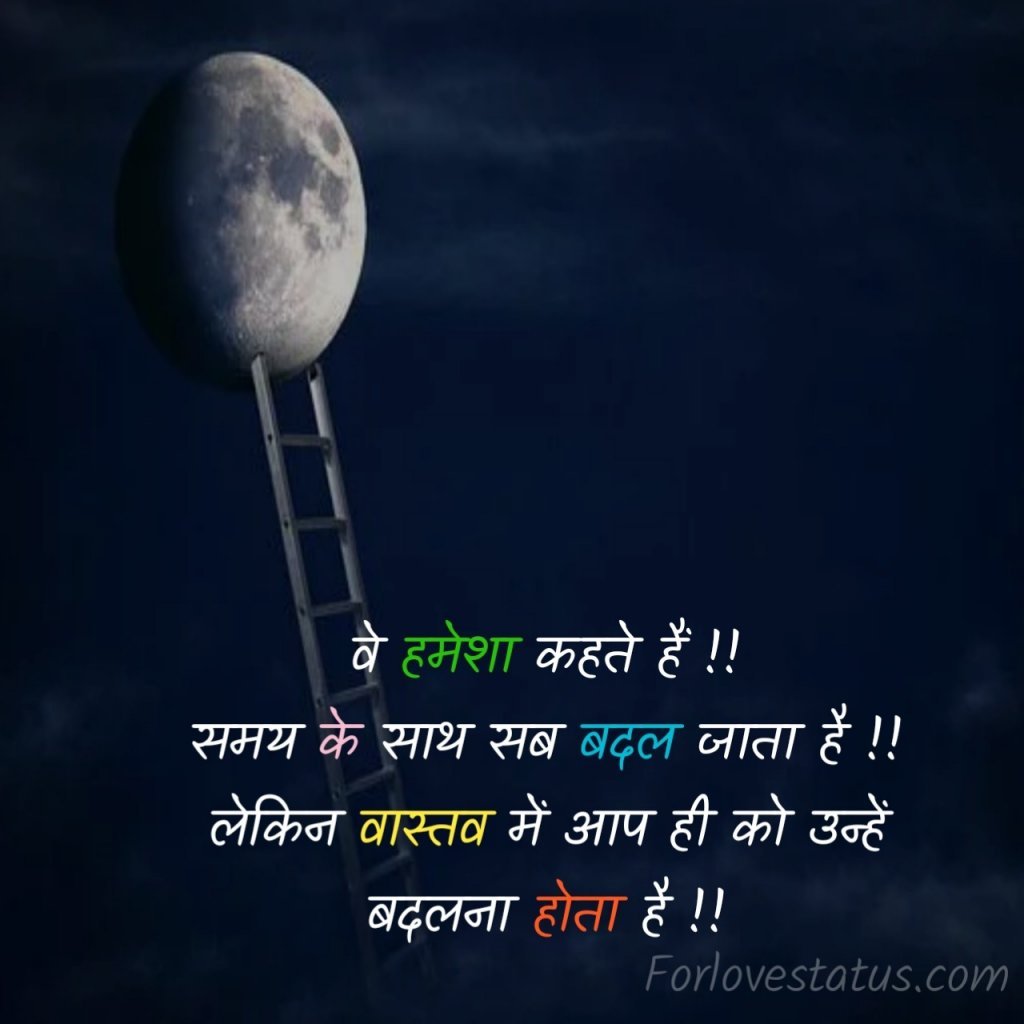 ---
प्रकृति ने सिर्फ दो ही रास्ते दिए है !!
या तो देकर जाये, या फिर छोड़कर जाये !!
साथ ले जाने की कोई व्यवस्था नहीं है !!
Prakrti ne sirf do hi raaste diye hai !!
Ya to dekar jaaye, ya fir chhodakar jaaye !!
Saath le jaane ki koi vyavastha nahi hai !!
Nature has given only two ways !!
either give or leave !!
no carry-on arrangement !!
---
रास्ते पर कंकड़ ही कंकड़ हो तो भी !!
एक अच्छा जूता पहनकर उस पर चला जा सकता है !!
यदि नियत गन्दी हो तो फूल भी चुभते है !!
Raaste par kankad hi kankad ho to bhi !!
Ek achchha joota pahanakar us par chala ja sakata hai !!
Yadi niyat gandi ho to phool bhi chubhate hai !!
Even if there are pebbles on the way !!
wearing a good shoe can walk on it !!
If the destiny is dirty, then the flowers also sting !!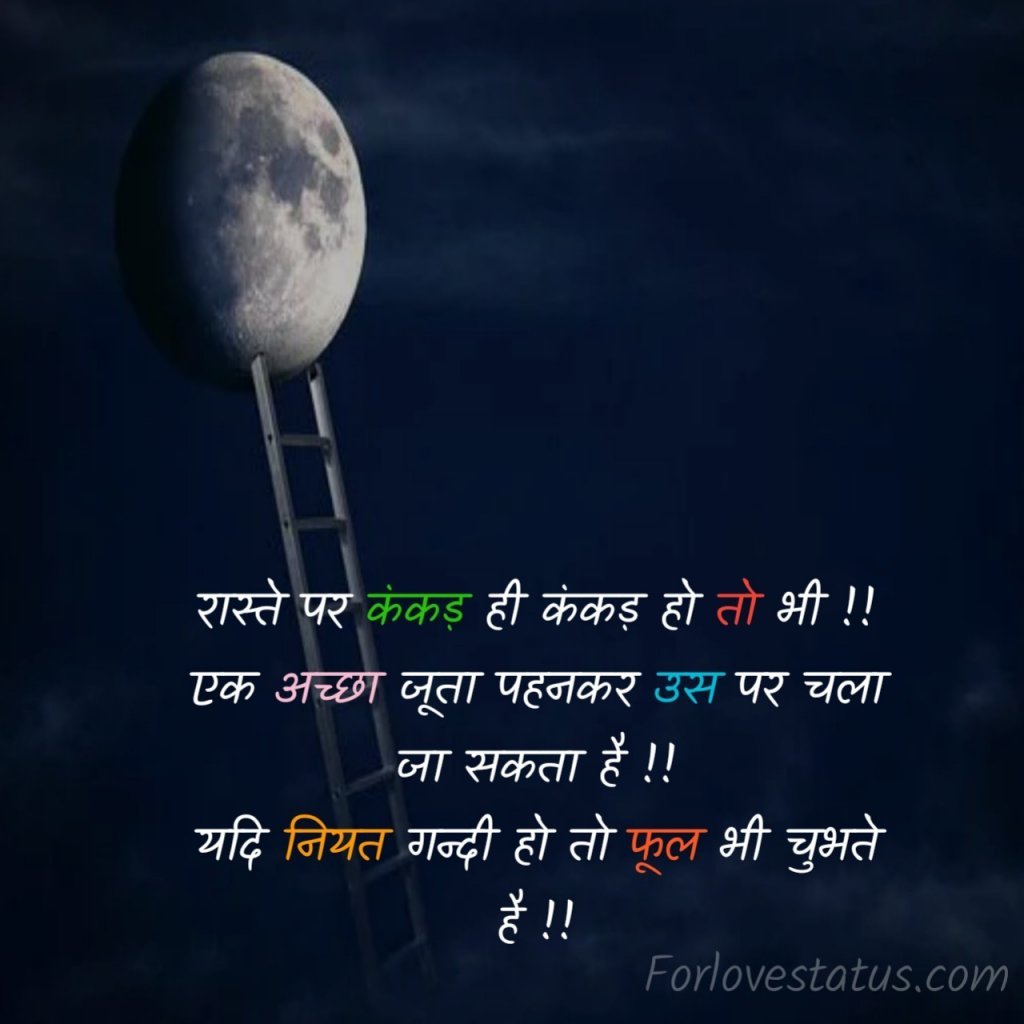 ---