Suvichar in hindi for students
"बदला" लेने की नहीं !!
"बदलाव" लाने की,सोच रखिये !!
"Badala" lene ki nahi !!
"Badalaaw" laane ki,soch rakhiye !!
not "revenge" !!
Think about bringing "change" !!
---
मधुर वाणी घर की धन दौलत !!
और शांति घर की लक्ष्मी कहलाती है !!
Madhur waani ghar ki dhan daulat !!
Aur shanti ghar ki lakshmi kahalaati hai !!
melodious voice the wealth of the house !!
And peace is called the Lakshmi of the house !!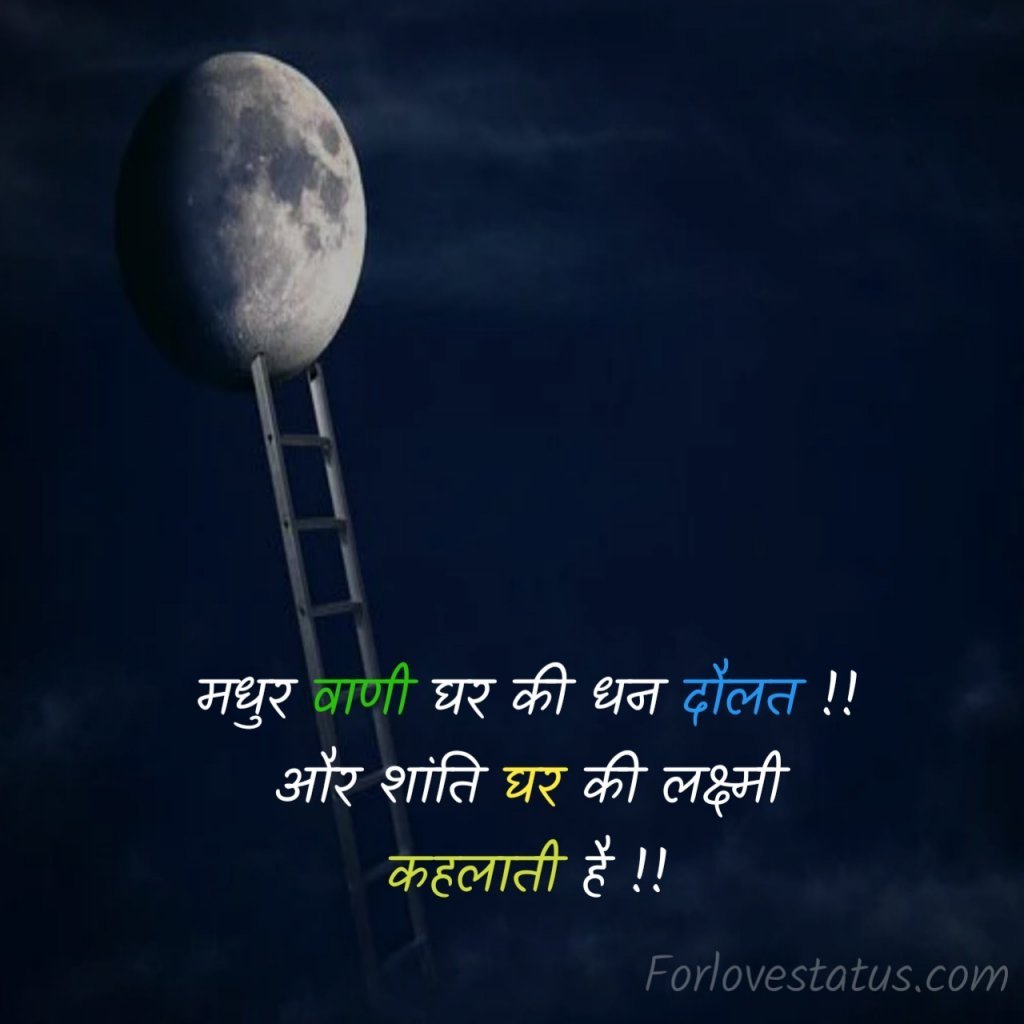 ---
हमे अपनी ज़िन्दगी जीतना सीखना चाहिये !!
क्योंकि हम एक दिन मौत से तो हार ही जायेगे !!
Hame apani zindagi jeetana sikhana chaahiye !!
Kyonki ham ek din maut se to haar hi jaayenge !!
we must learn to live our lives !!
Because one day we will be defeated by death !!
---
एक और ईट गिर गई दीवार-ए-जिंदगी से !!
नादान कह रहे हैं नया साल मुबारक हो !!
Ek aur eet gir gayi deewar-e-zindagi se !!
Naadan kah rahe hai naya saal mubaarak ho !!
Another brick fell from Wall-e-Life !!
nadan saying happy new year !!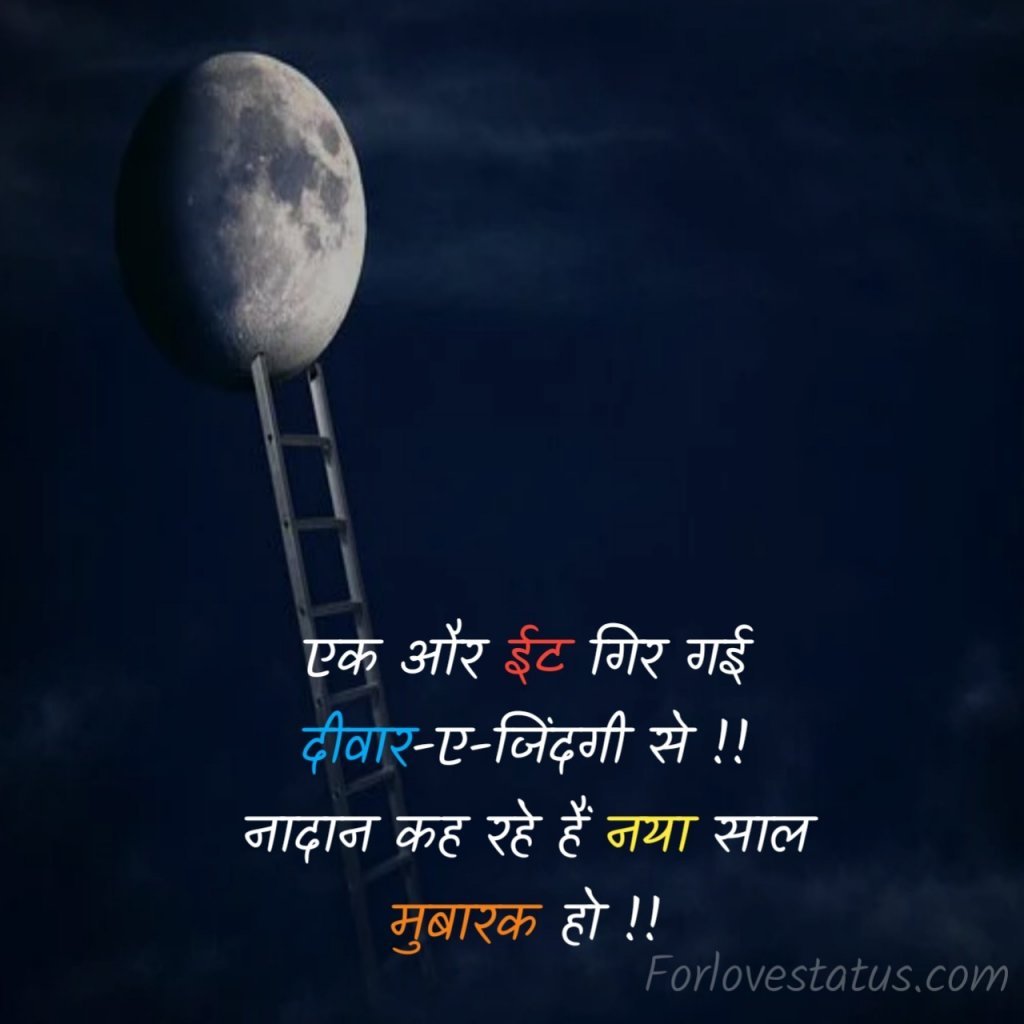 ---
गिरने पर भी हर बार उठ जाना और !!
दोबारा कोशिश करना ही असली जीत है !!
Girane par bhi har baar uth jaana aur !!
Dobara koshish karana hi asali jeet hai !!
get up every time you fall and !!
the only real victory is trying again !!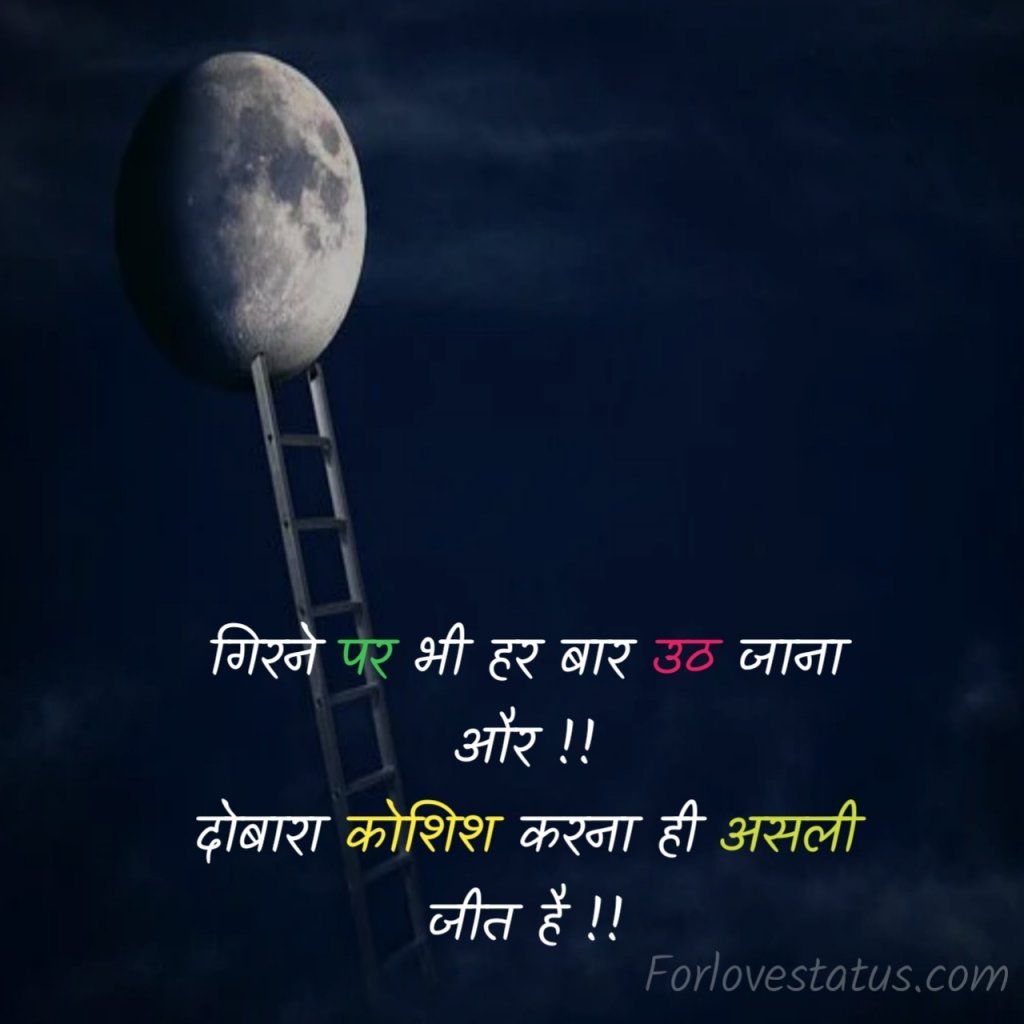 ---
अगर आप सूरज की तरह चमकना चाहते हो !!
तो पहले सूरज की तरह जलो !!
Agar aap suraj ki tarah chamakana chaahate ho !!
To pahale suraj ki tarah jalo !!
if you wanna shine like the sun !!
so first burn like the sun !!
---
कुछ रिश्तों के नाम नहीं होते !!
कुछ रिश्ते नाम के ही होते हैं !!
Kuchh rishto ke naam nahi hote !!
Kuchh rishte naam ke hi hote hai !!
There are no names for some relations !!
some relationships are only in the name !!
---
दुनिया का सबसे मुश्किल काम !!
अपनों में अपनों को ढूंढ़ना !!
Duniya ka sabase mushkil kaam !!
Apanon me apanon ko dhundhana !!
hardest job in the world !!
find oneself in oneself !!
---
मिलो कभी चाय पर, फिर क़िस्से बुनेंगे !!
तुम ख़ामोशी से कहना, हम चुपके सुनेंगे !!
Milo kabhi chaay par, phir kisse bunenge !!
Tum khaamoshi se kahana, ham chupake sunenge !!
Meet sometime over tea, then we will weave tales !!
You say quietly, we'll listen quietly !!
---
आखिर क्यों रिश्तों की गलियां इतनी तंग हैं !!
शुरआत कौन करे यही सोच कर बात बंद है !!
Aakhir kyo rishto ki galiyaa itani tang hai !!
Shuraat kaun kare yahi soch kar baat band hai !!
After all, why are the streets of relationships so tight !!
The matter is closed by thinking who should start !!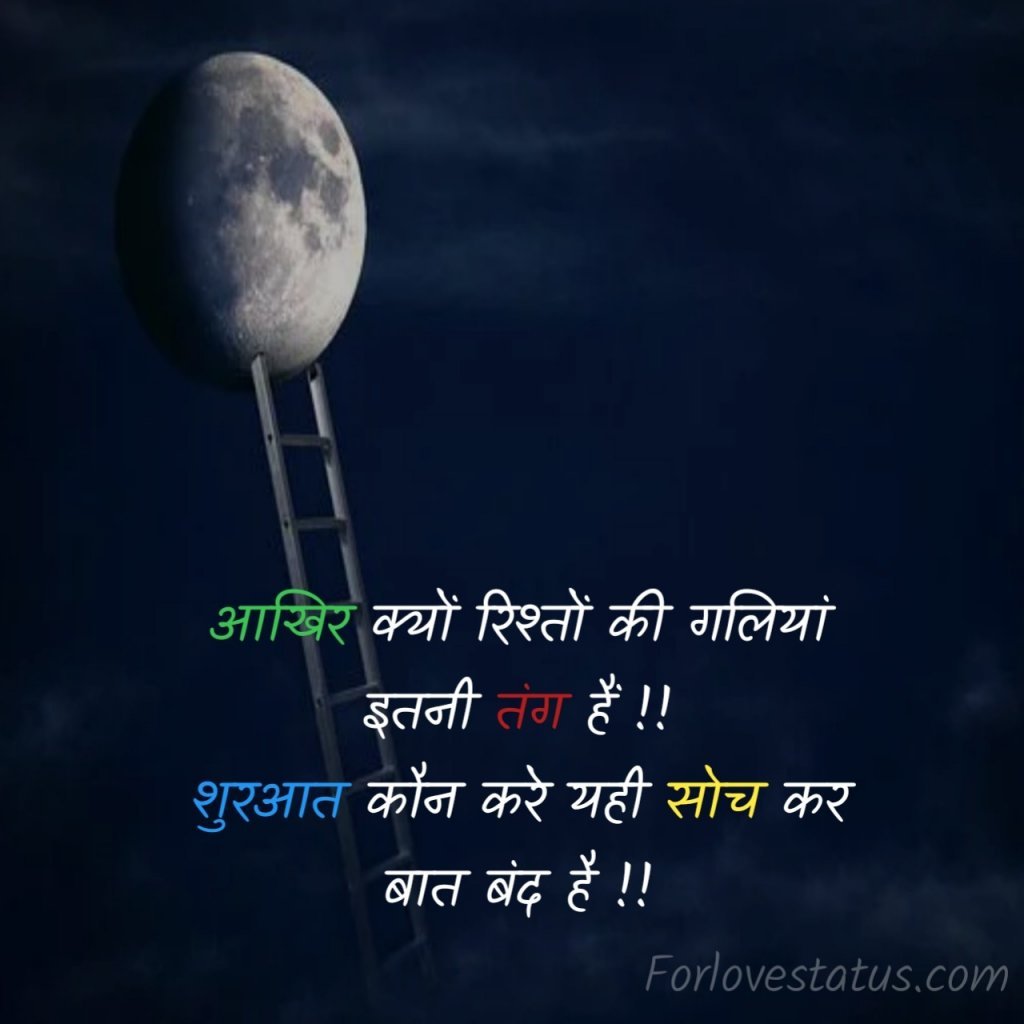 ---