Suvichar in hindi good morning
लोगों ने साथ नहीं दिया तो अफ़सोस मत करना !!
ख़्वाब आपके हैं तो कोशिश भी आपकी ही होनी चाहिये !!
Logo ne saath nahi diya to afasos mat karana !!
Khwaab aapake hai to koshish bhi aapaki hi honi chaahiye !!
Don't be sorry if people didn't support you !!
If the dream is yours, then the effort should also be yours !!
---
बहुत ही आसान है, ज़मीं पर मकान बना लेना !!
दिल में जगह बनाने में ज़िन्दगी गुज़र जाती है !!
Bahut hi aasaan hai, zamin par makaan bana lena !!
Dil me jagah banane me zindagi guzar jaati hai !!
It is very easy to build a house on the ground
Life goes by to make a place in the heart
---
पूरी दुनिया जीत सकते है संस्कार से !!
और जीता हुआ भी हार जाते है,अहंकार से !!
Poori duniya jeet sakate hai sanskaar se !!
Aur jeeta hua bhi haar jaate hai,ahankaar se !!
The entire world can be conquered by sacrament !!
And even the victors are defeated, by ego !!
---
खतरे में हिम्मत रखना !!
आधी लड़ाई जीतने जैसा है !!
Khatare me himmat rakhana !!
Aadhi ladai jeetane jaisa hai !!
dare to risk !!
half the battle is won !!
---
रिश्ता क्या है ये जानने से अच्छा है !!
अपनापन कितना है ये महसूस किजिए !!
Rishta kya hai ye jaanane se achchha hai !!
Apanaapan kitana hai ye mahasoos kijiye !!
It's better to know what a relationship is !!
Feel the sense of belonging !!
---
एक उम्र वो थी कि जादू में भी यक़ीन था !!
एक उम्र ये है कि हक़ीक़त पर भी शक़ है !!
Ek umar vo thi ki jaadu me bhi yaqeen tha !!
Ek umar ye hai ki haqeeqat par bhi shaq hai !!
There was an age that even magic was believed !!
There is an age where even the reality is doubted !!
---
समय बीत जाने के बाद कद्र की जाए !!
तो वो कद्र नही अफसोस कहलाता है !!
Samay beet jaane ke baad kadr ki jaye !!
To wo kadr nahi afasos kahalata hai !!
to be appreciated after the passage of time !!
So that is not the value, it is called regret !!
---
खूबसूरत सा वो पल था !!
पर क्या करे वो कल था !!
Khoobasurat sa wo pal tha !!
Par kya kare wo kal tha !!
it was a beautiful moment !!
but what to do was yesterday !!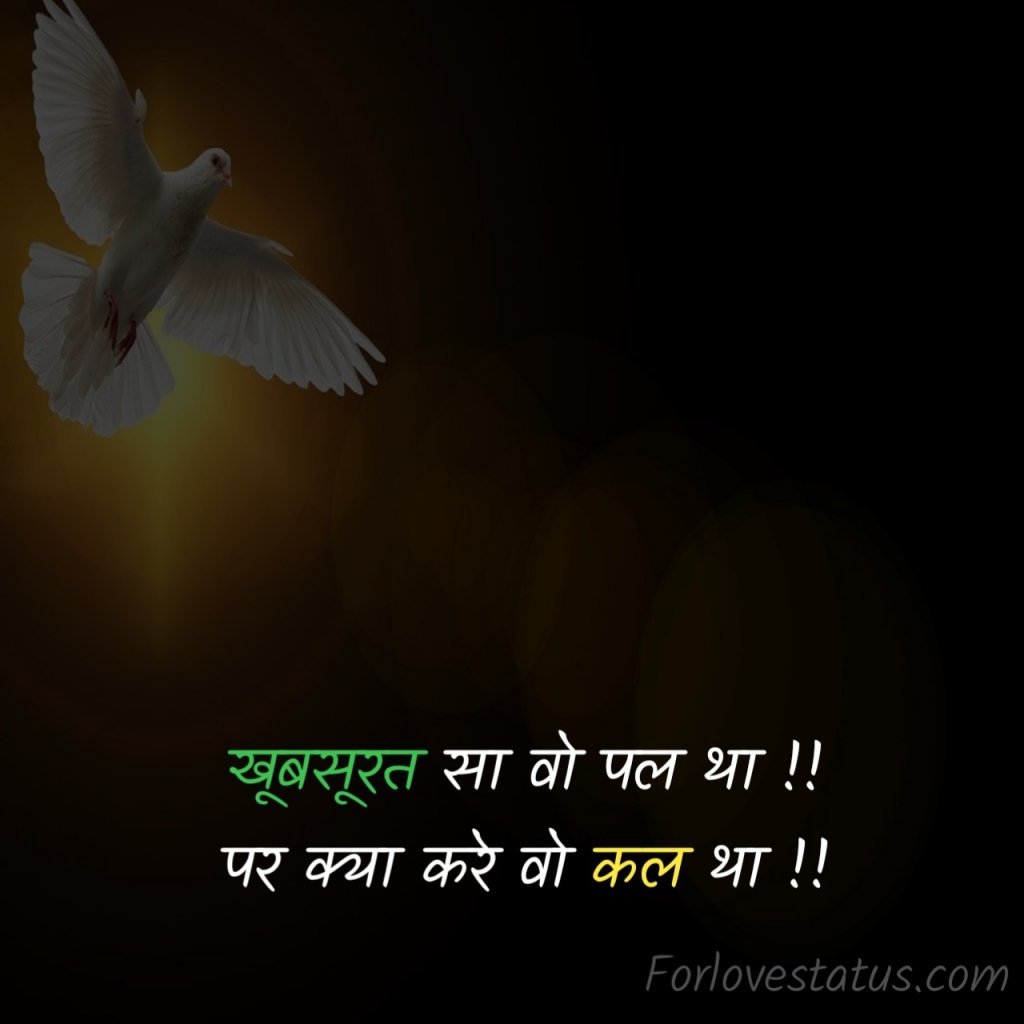 ---
प्रसन्न व्यक्ति वह है !!
जो निरन्तर स्वयं का मूल्यांकन करते हुए सुधार करता है !!
Prasann vyakti wah hai !!
Jo nirantar swayan ka mulyaankan karate hue sudhaar karata hai !!
happy person he is !!
One who constantly improves by self-evaluating !!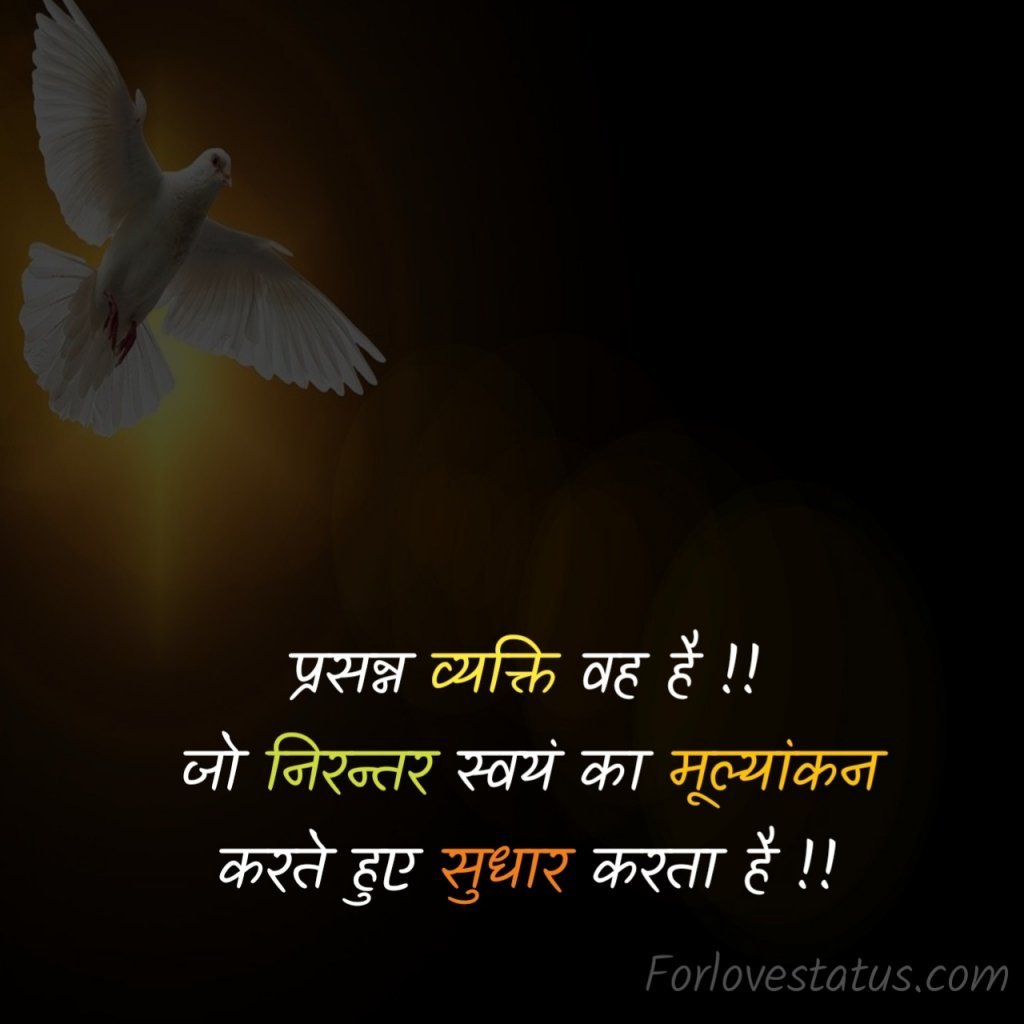 ---
थक कर बैठा हूँ हार कर नहीं !!
सिर्फ बाज़ी हाथ से निकली है ज़िन्दगी नहीं.!!
Thak kar baitha hu haar kar nahi !!
Sirf baazi haath se nikali hai zindagi nahi !!
I'm tired of not giving up !!
Only the bet is out of hand, not life !!
---